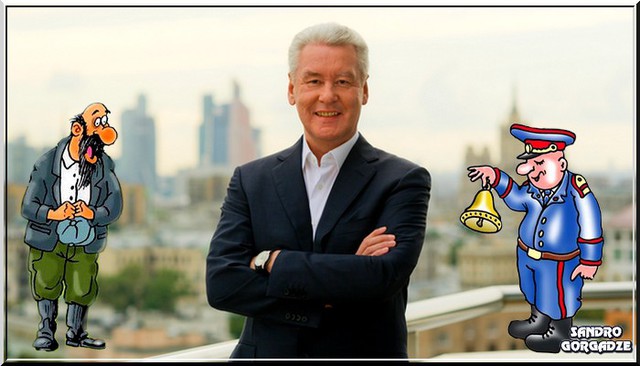 Dear Friends! Today it goes on ... Seemingly completely different topics, but believe me, it is only at first glance.
Where the police and where Benny? -The police ends where Benny begins.
Here we often criticize police, but always draw their attention to it. Many to this fact, love point, forgetting that. Yes, it is out of our pockets this funding is the police itself, and in fact we pay for services. We pay, quality of service does not suit us, but we continue to pay. Why?! But just no choice, and that's the whole answer.
Remember after all, reform, when suddenly the whole police suddenly became the police?! Remember numerous recertification? No, the change of the name, it is certainly a very strong political move. This is important. It is a pity that there were no Russian expanses of Sheriffs. These would put things in order. By the way and re-certification many gave to improve police work. After all, gone are inefficient, corrupt employees and sale, called the Werewolves in epaulets. What?! These things just left?! Are you raving about, sorry for being rude. Power, it's what we said? Correctly, the Reformation was successful! You know how to read?! Means, and there is no reason for doubt.
If we talk about errors. Yes, bugs, but that does not negate the success of reforms. Overall, although not without rough edges. Satisfied with this answer?! Well and good! Oh ladnenko! Many evil people have argued, on the basis of its experience, that ... It was impossible to take work in the police, then the people who did not serve in the army. The evil they do not listen to them. What?! School police have become places where you could get out of it from the army?! Yes, increased competition. But it is because of the fact that many citizens realize its mission of protecting citizens from criminals. It's a manifestation of patriotism, ëškin cat!
Great contest, this is certainly good. There is a choice, so to speak. And here's something for the police to arrive in school began to take bribes is certainly bad. This fight should be, rather than seek out deficiencies. I agree, I will not argue that. Take policemen cash for admission to an educational institution, it's cool. But ... My response to evil. We should not indiscriminately so blaming our gallant police. Yes, it was. But not everywhere, and not in our area, and not even in our area.
In all fairness, it must be recognized that the militiamen, and then policionèèry, have never been clean hands and a head cold. Well, that is crystal honesty did not differ from other citizens, but ... Use their work as a means of basic earnings, in addition to the salary, it's certainly stronger than all the known work of Mr.
Before it because it was?! All ran, with varying degrees of success and catching criminals. And this was the most important. But with such permission, say labour weekdays came with the advent of ... How would rightly say ... Tornado Appeared, Stopping, Typhoons, Storm Surges. And began. Conditional destruction of criminals as an element of the real destruction of the entire law enforcement system.
An employee of these bodies was put in a well-known situation or position if you so wish, when it should do its job while breaking the law. Why?! But because it is necessary to solve the crime. What?! And if it is not podvernulos′? Means bad works, with all the consequences. Ironic, but true. On a certain level the Guide stopped to realize and be aware of the real processes taking place in the system.
Why?! Elementary! Indicators! Real work smoothly transformed into a performance. Plan on indicators, this is the main criterion of success and an employee's entire service as a whole. Appeared very fashionable trend. Compare current performance to that of the same period last year. And everything would be nothing. Well let them compare and compare, but ... The devil who lurks in the details, that these indicators must necessarily grow. Catch?! Today more than yesterday, and tomorrow more than yesterday.
What?! Detainees are sounding?! And how! Of course, beat. And I will reveal to you a terrible secret. So do throughout civilized and not the civilized world if you from this fact will become easier. Another fail, and this is regardless of your relationship to this fact. Very many crimes and would have remained unsolved if not the primary method of obtaining evidence.
Feel what a monster grew up?! And this I am silent on the jury. Although why am silent ... I can say a few words. Here imagine. You've collected a dozen people or fifteen, outlined on that complains the patient lying on the operating table and they make a decision about the choice of surgical intervention. 'M overreacting? Of course, 'm overreacting! Trust the fate of citizen sitting on the dock, people from the street, it is surely the pinnacle of jurisprudence.
But the most interesting thing at all while still quite a lot of romantics who really want to combat crime and go in, but ... It is sad that all this romanticism, ends after about a year, a maximum of one and a half and grey everyday life.
There is no defined work certainly is. Here, for example, recently in the northern capital in vyborgsky district, police eliminated another brothel. The press service of the St. Petersburg hlavka proudly reported this fact. The brothel has successfully worked at no. 108, that on the big Sampsonievskom Avenue. Brothel on the Avenue! Sounds! Beautifully! This is important. It is important also that the valiant police officers found up to as much as three women who scared to say, provide sexual services for money. Then this is not a brothel, as well, bordel′čik. Yes, still there was discovered by an administrator. This is important. What serious business without an administrator. Prostitution was defeated in the form of protocols on all detainees, on administrative offences.
There is a reasonable question. Sandro, well why are you so much time involved in the problems of transporting liquids in containers with variable structure density. It is not clear in the words?! Sometimes I have this, I repent. And if you say simple and understandable words. Why do I have so much time, figuratively speaking wore water in a sieve? Elementary. In order to smoothly move on to the next issue.
Very long ago, when the girls were certainly prettier current, and the sky was much cleaner, yours truly. The capital. Bolshoi Theatre. In those days, for many students the Bolshoi Theatre was associated with hosted by Lauren Hutton, in the best sense of the word. Sad, but it happens. There were certainly brilliant performances. but ... All, or almost all, knew that if the walk next to a large theater, the chance to see live Queers multiplies. They were there! This is important.
Particularly advanced students, of course, used this fact to improve their well-being. Simply imitated the banal, and then rent or locally, or is already at home, came ot″ëm faggot money and not only ... Where to flee poor pediku?! Correctly, nowhere to run. Well, not to police the same contact?! This is important.
Passed year. Times have changed. Now the Queers, in the best sense of the word, can be found in different corners of our country. The impression is that they reproduce one of the known way willingly share with others ... With regard to the Queers in the bad sense of the word, and, in this respect, there are certain developments. These breed, more on the numerous institutions and ministries. Moreover, the more shrinking bureaucracy, the more it becomes ...
But with the Great Theatre. If earlier it was one of the world's finest theatres, ... Thanks to FAG as in good and in the bad sense of the word, the theater was killed. And not just killed, and the country has lost one of the pillars of their culture. A process that very long developed inside, reached its logical conclusion. Numerous productions of art fag, or if anything, a fag, have done their job.
Bolshoi Theatre turned into a brothel. And in the big brothel, unlike the little bordel′čika in the northern capital, who was at no. 108, that on the big Sampsonievskom Avenue. This is a very important difference. And how many directors of genius appeared! Each, I repeat, everyone has the right to his reading of many famous works. Ingenious pervert Serebryakov, put, the Golden Cockerel,?! Definitely put! And as he interpreted the classic tale! Baby covered wires. But as you dance with white fires and Secretaries in kokoshniks?! But as you demonstration of underwear?! Zabodaj avant-garde of his mosquito! This is important.
But, Eugene Onegin,?! This same brilliant! So ingeniously that outstanding Galina Vishnevskaya, was desperate and had not slept for two days of what he saw on stage. Is it the same as you have to read brilliant work in order to achieve such a stunning effect! Think everything?! AHA, now! Is it possible to stop geniuses?! Have you not seen on the stage of the Bolshoi Theatre, Ruslan and Lyudmila,?! Omission! There is a scene in a brothel, striptease, Thai massage ... You lost a lot! The staging of classics was so talented, that brilliant Elena Obraztsova, refused to sing in it. Great and terrible Mr. Shvydkoi was too ecstatic, calling the spectacle a major artistic event.
And here's all of the above, fully apply to all culture and art. Moreover, it can be stated that, together with the situation prevailing with law enforcement, the situation with the culture of the outlines Wednesday of the State and society. So say the moral-psychological portrait in the background.
And now, you can go to the main. To what?! I said. The Chief! And what is most important? Elementary! Property! Rather, the right to property! This is important. Spiders in the Bank became concerned. Rather began to toss about. This is important. How do you like to share this property you don't eat beans!
Our native and beloved, Prime Minister Dmitry Medvedev, also a part-time Chairman, United Russia, said recently that ownership must be guaranteed. This is important. In the words of Medvedev, businessmen are waiting for from the authorities for the protection of property rights. Moreover, as underlined by the Prime Minister, this right must be guaranteed. What's the problem?! Well, with his words, for this, including the courts more effectively.
Uncle Dima, in fact voiced a problem. This is important. It turns out the whole property in the country is so kriminal′na that it can at any time take away and share. Depending on the political vector. That is, receive the property on concepts, but want to save it. Brilliant idiots! This is taking into consideration that the small ejection of corrupt officials, albeit reluctantly, is starting to gain momentum. Of course, the shooting could not find a wide response and approval from the privatization process of the people.
Focus, if he's really normal, good focus only once. And the fact that it is impossible to enter the same river twice. Touches Ta moronic spontaneity with which power tries to present the realities of repeat privatization undertaken in the early 1990s. Hope to repeat! This is important. Although, as you know hope dies last. No, I understand that the remnants of the property it is necessary to attach. What is really there to be shy! But here's how to do it if ...
If does not work mechanism of protection, conservation ... Does the law fully? Kidding?! No, you can of course print and distribute beautiful pieces of paper on the right to property. You can even protect their watermarked. Beautiful will be! Can these same property certificate solemnly handed ... But here they help at a critical hour?! Doubt! This is important. As important, the most difficult thing is not to get a hold of archbishops tidbit and the hardest thing is to keep him.
Paradoxically, ... In the current reality, even State cannot give guarantees. It so happened. And done everything exactly and so it happened. The result is logical. This is important. Now remains to all wait for the next Justice. And some will wait with dread, while others eagerly and poorly concealed the joy on the faces of ...
But not everything is so bad! Everything is very bad! Recently, trying to contribute to the collapse of the country, Putin Adviser came up with another Council. And rightly so! Putin's Adviser, should give advice. Correctly! Sergey Glazyev, and it goes about it, issued regular Council to which, once again, by tradition did not heed. He advises are not heeded to him, he was very offended and continues to advise ... Upërtyj the Economist however, caught Putin's advisers. You may not believe it, but he and academician. No, really. Himself tested and was very surprised.
So here. Sergey Glazyev urged to study privatization of Margaret Thatcher! Brilliant! No, ingeniously twice! There is a reasonable question. And why she, and not from Augusto Pinochet. Although perhaps still not ... Meanwhile, in the media, naturally heart, numerous propagando ... s sorry for being rude, began a massive attack on the brains of the potential electorate. It turns out, and they finally recognize privatization which was in the past, naturally was carried out in violation of the law, but ... Dear Russians, this time, now that you can rest assured that everything will be according to the law and not sharpen nose mosquito ... This is important. This I say that mosquito nose do not sharpen.
To uplift your mood and vitality lacking in this place something vibrant and optimistic. And that gives us greater optimism than good and recognizable people, in the right place at the right time. Classic! Beauty! Enjoy yourselves!!! This is important.
Enjoy?! With your permission, I will continue. At the same time, when Dmitry Medvedev is very concerned with guarantees for the right of ownership for dexterous honest people ... Yes, it was at this time the problem tried to solve another ingenious statesman surnamed Sobyanin. Guess what I'm saying? No?! And no shame?! You should be aware of the most important events. This is important.
Overnight, or to be entirely accurate, one fine night, many pavilions were demolished, which were near the capital's Metro stations. Type, power, in the person of Mayor declared intransigent war uncontrolled construction. In both! Here's your father and Sergeyev day. Well, beautiful! Suitable morning average Moskvich and Metro station. BA! Beauty! André Le Paute! No more disfiguring the architectural appearance of the hometown of the pavilions.
Who is this good fellow who dared to challenge the criminals and nezakonoposlušnym citizens?! You know who! Sibiryak, a true patriot, statist Serezha Sobyanin! What?! And how to deal with this very private property which has recently become so worry Dima Medvedev?! After all, the owners of the demolished trade pavilions, regularly paid taxes into the budget. I suspect that they had a lot of papers, there a variety of ... With seals, watermarks, with stamps, signatures ... I suspect that in time their pretty pogonâli by different agencies. There are smart people a couple of weeks looked and studied these securities before them, others not less clever people saw, put their resolution. And now what?! Where to find the truth?! Where to go now?
Sha! Stand! No need to go anywhere! Came! It turns out, and I have no reason not to believe everything, Serezha was uncle was not so. Or rather, not so!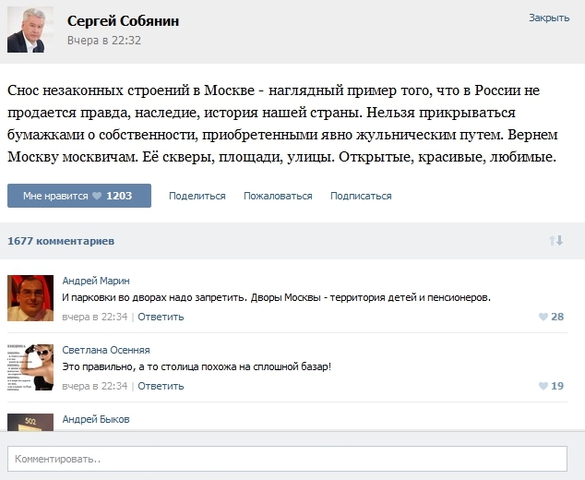 See now, what was that?! But evil tongues raised such a fuss that Uncle Serezha don't cry! What?! Dangerous precedent? You stop it demonstrate its legal illiteracy! What?! As it is, without trial?! You realize that said Uncle Serezha?! You clearly said that in Russia not sold true heritage, history... What more questions! All fair and square! This is important. With regard to the papers acquired by fraudulent ... Lord earnest dexterous people! Don't worry! It's not about those papers in question referred to Uncle Dima Medvedev. Can sleep peacefully! Yet, safely! This is important.
Know everything first figured with Sandro times! No, really! What is unclear, though ... Several confused of course a new legal term that most of these commercial pavilions, it turns out, in his time, illegally legalized. That is, ownership was legalized illegally! In both! Even everything and all knowing Google was unable to assist me in this matter. But there's no reason to get upset. If ask from Uncle Serezha Sobyanin. He somehow knows the answer. This is important.
If you do not forget, try just ask another here's what. All trade pavilions, they ... Well, let's put it this way, are not architectural masterpieces. They all affect the architectural appearance of the Russian capital, and equally, and ... Some pavilions just demolished, so to speak. Others make claims, but not demolished. The third was not demolished and not have any claims. Uncle Serezha was a rhetorical question. Why?!
In the meantime, we were concerned about global issues, at the same time. In the city of Cheboksary, resonant scandal trial. No, calm down! Not caught ordinary terrorists! Do not put on the judicial bench regular kaznokradov that as time has shown, quite and not kaznokrady ... The next shot is not a gang of criminals, which shows all the same time, quite and not a gang of criminals. Everything turned out to be simple and banal. This is by the way of what we are engaged in numerous bodies.
Lonely mature woman Eugenie Yerofeyeva won a lawsuit for non-payment of fees on the overhaul. For pensioner, stood city dwellers and community. Cheboksary is gaining resonance scandal trial. Capital master Fund "83-year-old sued Granny-lonely old Eugenia Yerofeeva for non-payment of contributions for overhaul. According to the Deputy Chairman of the Republican public organization "Union of homeowners" Tamara Manaevoj, the mere fact that forcibly take money with the most defenseless and poor is already causing resentment.
That's all that I wanted to say.
The author would appreciate comments.
Author Gorg February 2016 year
(P) . S.
Have an interesting interlocutor discovered glitter text, which will be a good conclusion to our conversation. A woman writes. Writes the heart ...
"In the early 2000s near my home built Ramstor. One of the first in Moscow. It was a modest (by today's standards) the two-storey building, on the ground floor of the traded products, while the second floor housed a dozen small shops with shoes, lipsticks and other goods.
Among these shops one traded buttons, threads for embroidery, wool and knitting. Behind the counter sat an elderly lady with a cosy embroidery hoop. Lady embroidered sky with clouds, a pond with swans, flowers and butterflies. Another lady gave entire setting tips on how many threads should be on the vest, which buttons are suitable here to this coat, but not fit for anything.
I loved to go to the Lady, consider canvas and variegated threads, admire swans and scold the bad weather.
Even near my house was a vegetable stall.
It was a cheerful moldavanka and her henchman, Katia, a quiet lad, always informed Uzbek me domašiny heavy packages with potatoes and onions. With the Moldavian girl Katya we discussed our children, learning difficulties and all the same bad weather.
Now I'll try to explain why I am so terribly sorry that demolished Auchan and missing lost Lady embroidered with swans, and razvorotili bulldozer stall where I always smiled.
Sorry if I'll do it dramatically.
You are simply lying when talking about love of country, and you couldn't care less what the pad to play your and other people's children, if you care about what your neighbor embroiders the swans, and how are you Kati, selling you tangerines. You will never be able to love the country, the people, the Galaxy-if you don't like them. If you do not get used to drink coffee in the morning in a small bar near the train station. If not will be 30 consecutive years to buy bread from buločnicy that gets up at five in the morning, to you, released in six in the dank winter morning smelled buns because its shutter.
You didn't disappoint his false grandeur, if you don't value and don't like small. If you are not a simple road fair, quiet life filled with work and respect to themselves and to the place where you live.
You will not hold in their hands, even the great victory, if not learn to appreciate everyday, beautiful, ORDINARY life.
Full of human habits and preferences of which, as of bricks, is built love of great things and grandiose ideas. Just so and not otherwise, I believe.
That's why today I almost cried after reading about 10 per night Moscow stalls.
I believe that many of them were not good and not too beautiful. But it would mean only one thing-their, lactating hundreds and thousands of people, it was necessary to improve and beautify. This is a very simple logic. If you have a toothache, you treat the tooth and not tear off the head. And if they managed to improve and decorate, are gradually could grow those magical bakeries, where baked dumplings with a prescription of a century ago and those pharmacies, where shelves stand pradeduškiny brass scales.
These are the things that make life worthwhile thing. It is for such a life clinging roots people. Exactly raise healthy, smart and hardworking children.