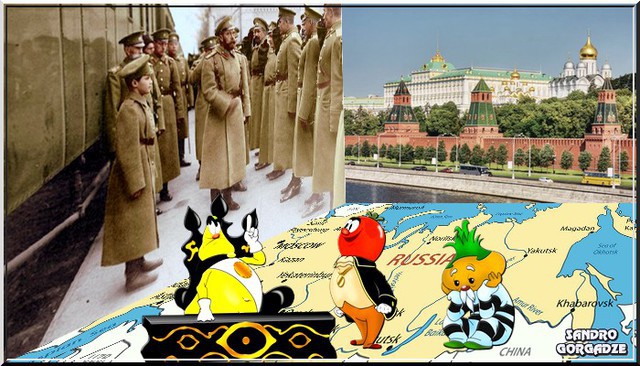 Dear Friends! We live in interesting times. Before, it was like? Routine! Communist in its highest stage of obscurantism development. Boring things! Only regular congresses native Communist Party and pleased ... One joy was. Check your own pulse with a pulse of the party. And now, every day. Yes there day! Every hour! One news better.
Here's the love we have to scold the younger generation. Very fond of. Avoid. Cavemen, that they take. Their bread is not feed, give pozloslovit. There are that oppose their machinations for the collapse of the State, which created a massive titanic efforts at political galleys. You-know-who. Will not once again remembering in vain.
It turns out that there are children who can donate the most valuable thing they have, for the sake of strengthening spiritual hive fasteners and not only them. It is true, it is very good when there are children, ready to sacrifice a trip in the Alps, the ski. For what?! In order that would together with Patriarch pray for Holy week. Well, really this boy made our Patriarch. This is a very important move.
True evil tongues, well type Deacon Kuraev, stated that this boy is the son of a high-ranking official A.i. Voroncheva, and it is not a critical rejection from Austrian Collections. Well, the next time you go, it's okay. The same gentleman is a friend of the deacon Kuraev stated that his observation of Patriarch gives its fruits. It turns out, next to Kirill is not the first time that appear random, kids ... Well, Oh well. Children like the Patriarch of love that has full of happiness ...
And full of happiness they apparently aren't enough. Correct!!! Good song! In the Russian church proposed to nationalize the famous Soviet songs! Yes, that's right and believes first Deputy Head of the synodal Department for the relationship of the Church with society and MEDIA Alexander Pinches. The Alexander worries that we don't hear those songs now, because there are heirs who require royalties. And therefore, it is necessary to listen to Frank hack-work. In both!
A little overwhelmed by officials from the Federation Council. Well not now, speak and raise a question about the quality of the chops that suggest senators. Officials from the Federation Council complained about lousy food, and most of them outraged the cutlets. Enemy at the gates, you might say, and they start slapping stomach theme. And this at a time when we still do not fully comply with all import substitution plans. Ashamed of the good Lord, you should be ... Not stomach a single man. This is very important.
Disgusting food?! There is a way out of this situation! Give a tip! There is a fruit, Herman Sterligov. Phenomenal type. Here he is concerned with food supplies and first and foremost the bread on the tables of expensive Russians. The fair holds, stores opens. Read about him. I assure you will learn many interesting things in terms of how the spud suckers in the field poskonno-primordial. He and followers are, oddly enough.
Senators would better take the example of so-called hackers. No, of course not with those of Russian hackers who said evil tongues, influenced the election in America. No, I'm on the other. Of these, about patriotism, they primarily are worried and are going through. As we are told, was hacked, tens of thousands of users, Kinopoiska, in order to raise the rating, to wait for a landmark film, Crimea,,. Well, the Crimea, which thanks to the efforts of anyone you know, has returned to his native city.
The Patriots, they're such Patriots! They can be compared only with the military and small children. These, too, big fantazjory and storytellers. According to the Russian military. Well, how many type destroyed, NATO forces bombed and blown up in the Syrian companies could win several times in a row, the most forbidden IGIL and all its allies together with enemies. But, no. Battle the evil continues. And there are certainly victims, which are sometimes very bashfully.
In late September, Russian General Valery Asapov was killed. All immediately started talking about betrayal and that around to blame Americans. Of course they are. Who is this argues, but ... Me here is primarily interesting to others. War, blood, dirt and sweat. In war, if anyone doesn't know, kill. And military people know this fact even since the choice of profession. We cherish the memory of all the victims. I am not interested in why they killed the General. Again, this is war. Killed and privates and generals. I am wondering why they knew where he was. Here's the main issue.
No, it is clear that anyone already visible victory in the Syrian companyto which we are all several years go. This is not even discussed. It is after all how?! Victory consists of many small victories. But small victories in this company so much that we can razdarivat its partners and greatest allies, left and right. All this is true, but it would have to quickly win and start to deal with their own problems. This is very important.
Hard our guarantor of the Constitution. He's not just fighting with the terrorists. He is also an ophthalmologist Syrian took under his protection. So it's true, but there is one zakovyka. We have there air defense system. Well, this is that p-400. But as soon as the United States and Israel, suddenly decide to popinat slightly our friend Asada. It seems that this very complex Grozny, how would going blind. Type, hear nothing and see nothing.
Then the population begin to tell two mutually exclusive version. The type we have seen everything they knew, but didn't want to ... It is part of a cunning plan. Others, those who are enemies of the State, start talking, they wanted to hit her a formidable weapon, but failed. Type the gut thin ... Who to believe?! Of course the Patriots who believe in a cunning plan ...
The war in Syria, of course war, but we should not forget about the Russian capital and its inhabitants. How can we forget. If badly to forget people, or even worse scoring, rallies supporters of liberal values may seem utrennikom in kindergarten. That's not to forget. With great fanfare, Park was opened, Zaryadye.
What you say here. Is impressive! Mentally so! If we consider that in the center of the Russian capital, always a shortage of parks. And therefore, it was initially clear that this very Park, Zaryadye, would enjoy high demand. And so it happened eventually. People that says popjor for the fresh air and beautiful views. It's important.
But as we have always been, what touching the hands of bureaucrats, automatically turn into ... The title, think of yourself. Turns out you won't believe, but ungrateful people picked up and everything povytoptal and stolen. Imagine the words of management of the Park, just opened in the park were missing order 10 000 plants. No, I understand that we, If we can steal, this bread does not feed people's fun and stuff but ... Maybe everything has already been stolen even before opening, the more fortunate in this case managers?
People, they're what?! They will continue to walk in the Park. And people will be a lot, as does the capital Centre. It turns out that during the first week of the Park was visited by order of 250 thousand people. Ohrenet! And you, how many people would have expected?! And in General, for whom you have planned the Park?! No, if only for a beautiful photoshoot of Mr Putin and Mr Sobyanin, then ... Yes, you can park close, until the next visit, if it will ... This is really important.
In the prewar time, or if the talk in other words, the time of troubles, always left management of the State. It is an axiom. State, you do not shake the eggs as people's Commissar of State security, former notorious comrade Abakumov, if historians do not lie. And they can, they are happening. So here's the stark reality shows, bordering on full clinic with the Office we have full Achtung ... No, really. Remove some, appoint other, praise, scold, threaten, tempting ... Like, they think everything is correctly done, but ... Again, it fails.
I'm afraid to predict but ... I think the time is not far off, when in power, bureaucrats, managers will no longer break. This is when the cons outweigh the pros of the profession. And what may be cons?! Correct!!! Become a scapegoat! Type stole everything and answer why I ... This usually occurs before the big zavarushkoj or if anything, a large shuherom. Officials, and they begin to sense such things like rats leaving a sinking ship.
Actually, now it's already happening. Run! Naive! Because in any case will be robbed. Although, what here surprised?! What wonder if almost all overbearing vertical and horizontal consists of amateurs and faery idiots. No, I understand that, let's say to the Minister of Justice, have legal education does not necessarily. The Ministers of defence, it is not necessary to have military education. Ministers in the Government, it is not necessary to have special education ... Beauty!
Little else remaining smart people know that nature abhors a vacuum. So, the holy place is never empty, and we see it. To replace at least some visibility that professionalism, comes ... Yes, some guessing! Obscurantism in a religious guise. I will not be in vain mentioning former Prosecutor with an alternative way of thinking and its rival on the political ring master, who likes to make movies on a budget money. But this is a nightmare! Priests in authority, this is even worse than thugs in power. No, really. Times of Communist Party seem an oasis of freedom and flourishing democracy.
Pre-war Russia, this is where the flaw is already otguljala ... Now, as they say who can escape. So, if you have time. They hope that they manage. Thats sometimes hear questions, type, and what the expected modern powers that be. As they were about to equip Russia?! Honestly?! Here's a hand on heart?! And they did not want Russia to equip. No, really. Communists no for almost three decades, and as stated, the facts in the face. And these are the facts and the stark reality that unfortunately do not inspire optimism.
It is clear, and this is stated on every corner, the Russians en masse wore crosses. Well, it should. Type, we go back to its original poskonnosti. And return, as well as in the times of socialism, slender columns. It is certainly good if so, but ... Whence then around, so many vices. Drug addiction, prostitution, debilizacija ... Where so much egotism, greed, jealousy, deceit, vanity, lust, greed, immorality.
How can I use one hand to be baptized in the Church and outside it, and use the other hand to steal with genuine inspiration. The main thing after all, it's money, and more money. The main thing is to get the maximum profit at minimum cost. At any cost and by any means. And against this backdrop, cocky phone bullies. And across the country. Russian cities wave of anonymous calls about bombs. It is not entirely clear. Whether the power trains, whether enemies of us check on vigilance.
A what?! Who says it's not hooligans and terrorists? No, my dear, with terrorists, we very successfully fight on distant approaches. So, the main us our said. And he believe can and should be. You will not believe, then will come to you or you will cause and explain that their disbelief you undermine the foundations of the Stateand there and up to high treason.
And if the enemy, well one that is already at our gate, here's will and decides to cross the river. Well, about the River, I figuratively. Samurai, they don't climb. Now they have a headache, it's a varmint with North Korea. Order your bare hands do not take and caps don't suppress. So, here! If the enemy decides to disrupt our peace of mind, otjagoshhjonnyj all the above ... No, it is not necessary for me to say that we are all as one, single line, shoulder to shoulder ... Will not work. This only happens in the movies. It's important.
Oh and how do you imagine that?! Let's say, your humble servant, woke up and here news, the enemy attacked and we must all defend the State. Me what! Spouse in a cheek Kiss, granddaughter hug and kiss. Hide in a safe place logins and passwords to social networks and various kinds of accounts. Pull out the battery from the camera. Well, since the regulations are written. Type if not in use for a long time, it must be removed. Take a small flask with bravura. Sinful. Love. And in principle, in fact you can go smash foe.
And now take someone home-grown oligarchs. With his wife to say goodbye, with his mistress, a Secretary necessarily, otherwise be offended. Check out the quotes on the stock exchanges. Hold meetings with numerous partners. Rejoice at the refusal of the Government of forced deofshorizacii system companies. In this regard, calmly convert the remaining money offshore, it just in case. To make a will. Caress favorite dog and cat. Tell children fairy tale so psychologists advise. Eat your favorite oatmeal porridge, so nutritionists recommend. Caress favorite cars in the garage. Go to the sea, to say goodbye to his beloved yacht. See how much needs to be done?! And when the kindly tell me fight?!
It turns out that together, me with it well does not prove in one trench. He will be late. And when the victory will be ours, then it will appear. Well, rewarding type uninvolved to victory and punish the innocent. And it us? Fight, so together. I'm even willing to initially provide advice, not free of course. If necessary, let me tell you and show you. And how! There must be solidarity! It's important.
Could not fail to inspire optimism in our prewar time, the fact that ... In the education of patriotism in the electorate become clone. Yes!!! Can you believe it!!! In the city of Pskov, in celebration of 1100 anniversary of the city opened two monument to Princess Olga. this is very important, and most importantly very timely. Imagine what field to display patriotism. The type who patriotichnee. Type in a city more monuments brand historical characters.
Churchmen might rejoice and defend service wholesomeness of Dmitry Medvedev and his organized group, called the Government in common. For what?! Ish, what udumali! Uncle Dima approved the rules for the use of a fire extinguisher in the censer and the Church. That's how many centuries enjoyed the censer in the Church and did not realize that enjoyed without rules. And only Uncle Dima and partners, have corrected this blatant misunderstanding. Hooray! Spectacular idiots, what you say here. They do everything that would hasten the day when everyone will openly laugh over them. Then come the fall. This is extremely important.
If anyone thinks that we are all, though with deputies and senators are lucky, that is very much mistaken. No, really. There's the same circus with horses, like everywhere else in power. You may not believe it, but the procedure of selection for deputies and senators is that ...
There's just the Rookery demagogues, careerists, rascals and rare positive sycophants. In peacetime, these with the permission of the servants of the people, say they are quite harmless. Well, steal! Well, loot! Quietly because loot! Money, as we know, likes silence. But in a crisis, or if you call a spade a spade, in a vague or prewar, these gentlemen-mates represent threat to public foundations. You should send them to retire, and all. So less damage will, from their activities.
So, collect them all in one place and declare. A type of the Lord-comrades good! Heavy for States times came! In order to minimize losses from your work to strengthen the State, you are invited to ... Well, the type, you will receive a pension, but only do nothing. You in fact, so did nothing, so now you won't do anything, quite legitimately. Agree?! And it's looking who offer! If the guarantor of the Constitution, you'll agree. They're with him on all points always agree.
Sad. It's sad to look at this whole circus. People have forgotten how to tell the truth. In fact, it has long been as not needed. Cheating, stealing ... Type as on the Titanic. When the hold was already water and the first victim on the upper deck were served champagne and grouse. Why grouse?! It is good that we have differences only on rjabchikam. Why?! But actually, why could not lodge a grouse? Something and it ...
That's all that I wanted to say.
The author would appreciate comments.
Author Gorg October 2017 year
You can join me on social networks