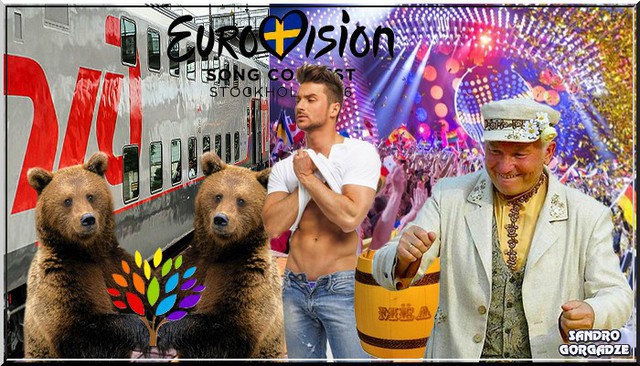 Dear Friends! Today we'll talk about ... Yes, Eurovision is our everything. It's like a breath of fresh air in the Casemates of the national culture. Culture, which continues to perform its primary function to educate future generations.
It is understandable that when a country already reached пипец, scribe, Achtung, role of culture increases at times. I would like to emphasize that the Eurovision 2016 is already 61-th in a row contest, which will take place in Stockholm in May. All progressive music and around music public awaits those with permission to say musical Olympic Games. Involved in the spectacle of a record number of countries. You may not believe it, but participated and 43 countries.
What?! Russia?! Calm down. Everything is normal. Everything is under control. Where there no Russia! What you say! Any event and not only musical, without Russia's participation, this is nonsense. We are always looking for any barrels, including music, be a plug. It's like wedding night without a bride. We always try to be that the deceased, who is always to place on any funeral. This is important.
This time, conquer and amaze with their art of civilized Europeans rides Serezha Lazarev. who is Serezha Lazarev?! Be ashamed! For those who don't know, say the most important thing. you won't believe it, but he is a singer, actor, film and television scoring, a former member of the Group Smash ! Block, rather than a participant. Not something last year. a girl Paulina, although it has a strong and beautiful voice, but ... No, I understand that the second place some consider a huge success. Mistakenly believe. We need only the unconditional victory. And one at all ...
In the beginning there were certain doubts. Whether there will be a Russian musical Glade Batir, who will be able to challenge this glamorous European Taina. And yet, such a Batir found! This mission took over our Serezha! Tremble! In fairness it must be said that Sergey Lazarev is not wanted and was not going to participate in the contest. Well, once it. The tree, Matinee ... Kidding of course, but ... Once, Serezha heard a song which prepares for Eurovision, gladly agreed. This is important.
Why gladly accepted! Good question! As it turned out, the author of words and music is ... Yes, it is. Chief songwriter in the country! King! Genius, recognized during his lifetime. Meet! Philip Kirkorov! Yes, that's it! The genius of that song, Lullaby for the volcano, in the distant year of 1995 took with the worst result for the countries those setbacks 17.
Konspirologii lovers, may well raise an issue. And everything we have done and by sending such a responsible Serëžu Lazarev contest?! I answer. No, not all. And to be quite accurate, that nothing did. From the word at all. Choice and the choice of song, to date, it is not enough for the unconditional victory, which of course is very important for Russia. We only this victory is not enough. Everything is there, everything is good. It's like the salad lacked salt. Well, that is, the salad is good, but here's the salt it and ... Gourmet feast! This is important.
But where, when and what is wrong, those who are responsible for participating in the contest. Although, there are understandably doubt that we have more people who are left behind something even meet. In my opinion, never look a musicologist strategic mistake. Well, forever young boy, albeit with a brilliant song forever old composer ... And what?! This did not surprise. This is already not even cause a condescending smile to well-fed bourgeois faces. This already even not give motives of bourgeois propaganda to accuse Russia of inability to generate new and creative on world music meadow ...
It isn't! The bourgeoisie has long been ready mentally to degrade the contestants. Music is secondary. Is primary texture. This is how it used to be, in the days of concerts dedicated to the ordinary Congress of the Communist Party's favorite. Then how was?! The song is supposed to be from the correct authors that if range, together with the General line of the party itself. Artist must be worthy of its highest purpose to carry art to the masses.
If you think that since anything has changed, then you are an incorrigible optimist. The impression is that those who at one time were preparing a festive party concerts, collectively moved on permanent residence in blessed Europe. And not forgetting to remove the Komsomol icons. This is important.
Here in fact that, as many think neiskušënnye with permission, say experts. There are musical crap that should be beautiful and elegant present to the Viewer. All this may true, but only at first sight. This was at the dawn of the great democratic revolution of music. It was of course important, but at the current stage, the task became more complicated at times. Now, in addition to all this, you will need to make citizens, said taste is the most shit and ask for supplements at ingenious cooks. Moreover, do so voluntarily. Moreover, even a couple of tips, so to say definitely give to improve the taste of the product.
Mandatory ingredients are definitely FAG and transvestites. It's not even being discussed. You'll prepare Borsch without meat?! No, if there is no meat can cook meatless borshch, this is understandable. And here. If not a fag, though do not know how it might not be, then the foreground anoreksičnye obligatory freaks, thick aunt, or at worst draped shemale ... Remember boy Dima, well that Bilan, not to be confused with the 4 G, which was a grand piano or piano, experts here have not yet agreed, the Swan and the skater to skate ... This day-before-yesterday night. Progress does not stand still.
Here in fact important sparkle. Feathers of ostrich, growing out of the anus. Moreover, the growth of these feathers, occurs as a result of automatic irrigation, right on stage, with the participation of Copperfield backstage. Be sure to dance with animals that have changed their sexual orientation, due to the wind of freedom which has reached these lands. Necessarily require installation or performance. Better yet, if they are in one bottle. Well, two in one type.
Oh, and there's a limit to which to aspire, is the State of the public close to mild ambivalence. The lightest of the ambivalence that smoothly flows into enchanting catharsis, zaslonâûŝij a pervasive paroxysm. Not too abstruse put it?! That's good! We're with you intelligent people, we understand perfectly what is it ...
Envision a nagging zlopyhatelej. Okay, here's everything you feel bad. Well, and what you can offer. Know good advice, he is money good worth it. But for the sake of our common victory on such difficult music competition, will not talk about money. In order to avoid another disgrace, strongly advise to radically change the approach to everything that has to do with Eurovision. So, to start plan, naturally with the stamp of the highest secrecy. Let's start with the Executive Director. Everything that was, it's yesterday. Highly recommend for the role of Executive Director to pick ... the bear. Can be from a circus, but it's better to catch in the wild. Else they are inhabited, nor yet in spite of all efforts to save them. This is important.
The concept of the speech I see like this. A dark scene. Hear the growing buzz and hum. When the audience is looking at a couple of minutes of darkness begins to applaud, there comes the long-awaited dawn, symbolizing the victory of light over darkness. River Glade and lonely standing penëk. Which runs two storey passenger car of the RUSSIAN RAILWAYS. When after a few minutes of contemplation of the scene, the audience will continue to applaud, the bear appears on stage. Our bear will forgive me these cute bearish creation, bear-by a FAG. Dress appropriately to our contestant will entrust Ûdaškinu, relevant experience he has. This is important.
Bear-FAG moans and squirms in the scene. This stone we have a song called. The audience perplexed that he should, this kosolapomu pidoru ... And then, as the Sun from behind the clouds. Stops two story wagon from RAILWAYS and from it goes Uncle Jura Meadows. Goes something like walking out in the famous Gelovani actor the final scene of the film,the fall of Berlin. In the hands of Uncle Yury barrel with honey, which symbolizes the corruption in the upper echelons of Russian power. Modestly standing penëk is transformed into a hive and it begin to appear. No, not the bees, and the members of the Russian Government, deputies and senators. But our saw no bribe. He rejects with anger, which should show the presence of active forces in Russian society. Bourgeois public fuming. All frozen in anticipation of the outcome.
That it is necessary to bear-pidoru?! What he seeks? What are his political demands? What it's as loud as a victim? The penëk sits the head of Government and begins an extended meeting of all branches of Government. Bruin continues to yell, but no longer as before. Appeared, albeit weak, but a ray of hope. Chu, vote and ... The oldest present, slowly, as if tired, climbs in a wagon and disappears for a while. Pause is prolonged. The bourgeoisie in the Hall of loud applause, and she interchange requires Taki comes! From a wagon, exponentially, it is important to self-esteem goes down another bear.
But the bear is not simple. What?! Here's how you guessed the second Bruin prove by a fag? Is it really leaked?! Just kidding!!! At the sight of her lover, with whom they were forced to leave during the reign of prudery and hypocrisy, the first bear publishes roar, which dampens all equipment in the room. They are holding paws, to the middle of the scene and groan. And this song is called we moan. Others present cry and do not hide their tears. In the corner of the stage is the Lev Leshchenko and nervously smokes cigarettes one after another. Nesmolkaûŝie applause! The crowd breaks the rest of your furniture! Universal jubilation! Full Achtung! This is important. So, and this is the only way to win at the Eurovision Song Contest in modern conditions.
Other participants refused to speak after such great success our bearish bears. Voting becomes a mere formality. Swedish mail urgently prints stamps commemorating this landmark event. The Government of Sweden on its urgent meeting decides to immortalize this event and decides in the center of the capital to install a commemorative plaque ... Yes there Board the majestic monument. Consultations with the Russian Government to bring to the establishment of the monument Zurab Tsereteli's uncle. He, and only he should do it. This is important.
In the City Council, as a matter of urgency, bypassing all the conventions, are ready to marry two hapless animal, which separated the fate formally announced by the City Council in his account Facebook . Bourgeoisie cries and rejoices on emotion, happy and crying from emotion. Winning Russian contestants theme number one in the world media. Going to the UN Security Council and proposes to nominate our bears on the peace prize for their unprecedented contribution to bring people together on the planet. Diplomats resent! What is the nomination, what else is there to discuss? Deliver immediately, well the deadline tomorrow , this prize and to stop the mock common sense ...
Uncle Nino, well the one sculptor, gets a price tag. He spoke with a special statement, where reports of the public that he had a cold and soon will not be able to get to work. Well, ill type. Urgent going to medical authorities and ... Right, only Arbidol can cure his uncle, Zurab. Tatyana Golikova instantly awarded bonus calling, home medical award of Russia. Dr. Roshal from white envy runs into heavy depression and employs the best psychologists in the country. Uncle Volodya Putin urgently aborts vacation in Sochi and returns to the Russian capital to prepare an address to the nation. Barack Obama that well, Huseinovic, prepares for impeachment and packing up in the White House.
Admittedly, that may occur can not occur quite reasonable concern about my health. You may ask, so, with the Bolshevik honesty and democratic openness. Sandro, that you wrote? You say that is absurd and schizophrenia brain. That this aspect of the mental state of the individual, very details considered at the dawn of the last century e. Swiss psychiatrist Bleuler. All this is true, it's all right, but ... Calm down. About gebefrenii and speech may not be. How can we not and function on the oppression of the thalamus. And to be absolutely precise, mediodorsal′nogo cheeks. This is important. Doctors understand what is at stake.
The thing is that schizophrenia brain is the place to be. See, recently, actor Oleg Tabakov has received the award. Wipe your eyes! Oleg tabakov got Oleg Tabakov award! And it's not April Fool's joke, a solemn award ceremony took place in the theatre of Oleg Tabakov. How can this be?! May I assure you very may even be ... So my fantasies about the Eurovision Song Contest, it's sophomoric versus masters of the genre. Reward yourself and wife Marina Zudinoj, honestly and fairly. Well, at least no one about cultural hangouts not objected. Even forever Leah Akhedzhakova Medžidovna Turkish left this fact without his attention. This is important.
Did Oleg Tabakov nobody award?! Surely nobody needs it anymore?! Surely, this is the way an actor trying to remind everyone that he is alive and able to evolve creatively and not rest on our laurels?! Who is to blame? Certainly Putin! He, and he alone. Maybe the thing ... Maybe the fact that Russian art and culture in General, there are no more artistic value? Maybe this is the reason why the number of prizes and awards simply rolls over?! And if there is a substantive conversation, it is always possible to refer to the numerous prizes and awards, presented themselves to the fun ...
Everywhere the same person. These persons with pathos comment published, removed, produced, award and is awarded to ... Feast during the plague, to say the least, using profanity. Nut of musical knowledge is steadfast, and its very difficult to plug in the dark, really sorry for the rude word ass musical ignorance. But some are unable to fully. More recently, an outstanding musician of our time, which certainly is Yuriy Loza said what many knew some of us suspected but were afraid to say out loud. It turns out that the Western Group the Rolling Stones and Led Zeppelin are very weak musically group. And it said not what there from Urûpinska, Joe said this musician whose song, raft, two American teenagers and Australian aborigines. This is important.
That is saying that a bad example, he is contagious and correctly say. world-class Star, singer Oleg gazmanov, son of which at one time was very concerned about the fate of the missing dog, Lucy, has voiced his opinion on the petty provincial British group The Beatles ., These with permission to tell musicians, very poorly played. And the words of the greatest music critic Artemy Troitsky modernity that group Queen , it's bullshit, you must cast in gold. The soloist of this group, the late Freddie Mercury, twisted a couple of times in his coffin.
A brilliant writer, a recognized classic of world literature Eduard Limonov recently, so casually uttered the words that Turgenev and Tolstoy is just rubbish, which we all just overfed. Apparently the oral sex with African American in his time, a very beneficial impact on the creative development of the writer.
The attentive reader, noticed that the header mentioned paraanal′nye gland. I assure you, are not accidental. Animals have these glands are used for communication. They discovered a bunch of nose and determine who was in the area. That is, in fact, occurs and introducing yourself warning outsiders about their area of inhabitance. Yes, I agree that the secret to allocate these very glands, has very specific smell, but ... Need glands can deny is that the most recent retrograde from biology. There is a suspicion that the Russian culture and art as brothers our smaller use their paraanal′nye gland as a means of communication. Your own unûhaet from afar. This is important.
That's all that I wanted to say.
The author would appreciate comments.
Author Gorg April 2016 year.
(P) . S.
I would like to give a no comment, but can't set foot on the throats of their own song. See how Alexander Petrov and Anastasia Antelava dancing, Foxtrot. And it's not in the dance. May not form a German officer and to face the Russian actor, but how can we fail on paraanal′nyh glands. Smell, smell is not neutralize even French perfume. Although, some people like, but as they say it is a matter of taste. Formed taste ...
You can join me on social networks