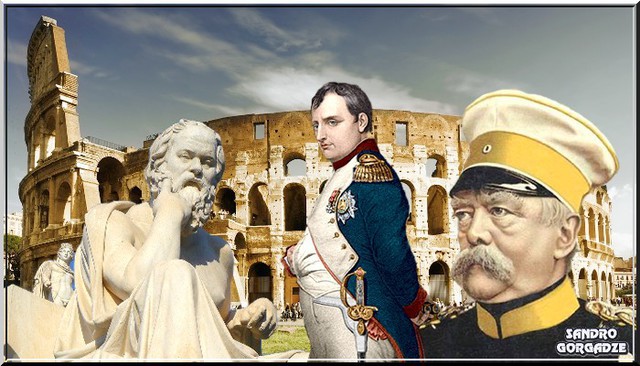 Dear Friends! Today we will not have an expressed topic of conversation. Simply talk about the life of our grim and observe the events that have been in the past and who is interested in this. No, as akin, yours truly sing, that sees not going. And not because singing is not able to, as best he can, especially when visiting bath. Just singing, or if you like vocals, should be dealt with by professionals and we will reach a little walk ...
Look to the side and see Greece. How not to marvel at the wonderful metamorphosis. The same should be waiting. Remember the expression that in Greece there?! So, for a couple of decades, the proud Greeks, not without the help of gentlemen of course passed that phase and entered into a new one. What?! Elementary! No money, let the money or wouldn't you all ...
Povernëš′ head in the other direction, and you see heirs of the great Bismarck, forget tips which was already good, but sad tradition. Beside them restless Musketeers who really loves experimenting in sex. The ratio of men to women they seem so boring and cave, that soon they will select the Palm from the Dutch. What is Palm?! Well, the right to be called the State a fag, in the best sense of the word.
Speaking of Frenchmen. Here I do not understand why a Frenchman Napoleon, is still considered a brilliant commander. No, we said and we must believe, but ... See this genius winning all battles in 1812 year, capturing the Russian capital, however, managed to lose the war. It's another to know you had ...
Behind them, as always in the side, see British and England, who is known to love shitting all and sundry, it if does not lie evil tongues. Shitting something they love, but not in his house. My House my Castle. A wise saying that really don't like liberals. For them it would be better to phrase my house is the yard, visit good people, all over the place. Not razuvajtes′, weapons can bring.
A little further, for a small pool of large ocean, can see the handsome Cowboys of these conquerors of the natives of the Americas. Peaceful conquerors. It turns out, is so peaceful that without firing a shot, the power of persuasion conquered the wild, but a very proud Indian. But progress does not stand still. If earlier the Americans loved to much work, then now is the reincarnation of the former USSR, only in the worst performance. Remains little working, but very much willing to not work and receive benefits.
And if you don't look into the distance, and a look at Russian realities. Perhaps on par with Ciolkovskim, Popov, Tupolevym it is possible to note Mr Serdyukov, a process which enriched the world right, opening such ingenious procedure term as misguided. That is, he certainly stole, but did it not by wickedness, and because he was deluded their subordinates. Of course you can steal, but you need to remember one unbreakable rule. Indeed, the entire world experience shows, that the important thing is not to steal, and most importantly keep the stolen ...
Russian tradition that is rooted in the near past. Destroy the industry, science and education. With great bombast to organize religious and religious, not only to vote for brilliant idiots in the Russian Parliament. This is in fact not very scary. Typically, these symptoms are before the revolution, when the electorate takes ogloblû and goes to the elite discussion on the topic of controversy after Plekhanov and Lenin. Elite, as always happens in these cases, is not ready for such a serious conversation and trying to evade a meeting with participants in the discourse. Not always true it is, but not torture, as unforgettable Lavrentiy Beria.
Another Russian tradition. Much love all dethrone! And, anyway, who dethrone. Prince, King, President of the ... A lot of love in this lesson, you dethrone all certainly enjoys Vladimir Putin. Its more all love dethrone! And contemporary Russian liberals hate harmful issues. I am what I am and not against, only notify when going to overthrow was the opportunity to prepare for this landmark event, but ...
Let me ask, would love to know the answer to one question. And whom will raise instead?! No, I want to know, and have every right to. What?! To begin, lay aside, and then see?! Well, guys, you're not me razočarovyvajte! Or discover a terrible secret, the Liberal whom you put there gathered instead of Putin, or svergajte themselves.
What?! You have a list of alleged potential candidates?! Navalny, Kasyanov. It is clear! You more about Faith Kičanovu tell me in order to repel any hunting I have Uncle Volodya dethrone. Maxim Katz why not included in your list?! Oh busy flower delivery ... Guys, you've made your choice, and then I will stand up with great pleasure to your shapely ranks.
What?! Misha Khodorkovsky?! Agreed, but only on condition that the guarantor will be the new Khodorkovsky of the Russian Constitution, as Prime Minister he will be Anatoly Serdyukov. Warn that any other nominations are not support in principle. These are the only two who can lead the country out of the deepest crisis, as have the iron will and great work experience in finance ...
Look at the electorate, sorry for the people, and it is daëš′sâ. Talk about lack of ideology, and there is complete idiocy in his brutal grandeur. Man, from his childhood to inspire the idea of sacrifice, humility, bringing the voice of conscience.
No, it is of course in the theory of everything is good, but I would like to draw attention here is at what moment. This is a very dangerous instruments and mechanisms. Why? Yes because it is not the fact that they will take advantage of Crystal honesty people. And if they would take the whole State, stupid and krovožadnoe. What then? No wonder? But in vain, you always have to worry about it.
Talk about personal, I would say selfish interests, and for sound, is considered something shameful and not reflecting the vital interests of the society and the State. But perhaps this is exactly what we are lacking at the moment. Numerous promoters without batting an eyelid, called upon to educate the younger generation's love for the motherland. Do not argue, and it must be done, but ...
And here's someone thought, as the Motherland, you must educate Lubov to its citizens. Paradoxically, the fact that the so-called propagandists, the majority of the population learns of their aspirations and hopes for them, thanks to the media. People report that their feelings for example very much offended. And while they don't tell, they don't even realize.
Already noticed that if the State anything from their own citizens, it is with great enthusiasm begins to call itself home. And exactly to the moment when with persistence worthy of the best use, begins to pursue their favorite thing. What?! Elementary! Not noticing, loot, kill, loot and humiliate their citizens.
And for a start, it would be very nice to stop lying. Yes, I agree that it is very difficult, but in any case, have to start ... Since only the truth, no matter how bitter it was, is not the small brick building that you can build into a strong State. It is not given. Because a healthy cynicism, is apparently what we now sorely lacking. But it turns out, call a spade a spade, it is not top of political correctness and the complete absence of even a hint of the existence of tolerance.
Separate words deserve churchmen, not only Russian. Departing too far from traditional Christianity, churchmen themselves unwittingly become a laughing stock. No, I understand that the fire could have been resolved all disputes and issues, but the times have changed. No, I understand that there are religious feelings, but would like for their insulting to learn not only from the mouth of the main church of the country.
The impression that the main task of the Church is the privatization of pensions from elderly people and acceptance of donations from oligarhata, which hopes to thus obtain an indulgence and continue to steal native Russian coffers. Above, Mr Napoleon, which is always associated in the popular consciousness with the Ivan Susanin and Mikhail Kutuzov.
If you do not lie, evil tongues Mikhail Illarionovich, he of course the great Commander. So great, that in time of war, is very fond of almost 24 hours to sleep. One sleep apparently was scary, because war is going, so he slept with girls, as it is now would say, school age ... Brilliant, but the fact remains that. Unlike Napoleon, Kutuzov, losing all battles, managed to win the war. Marvelous Lord's case, particularly in light of the fact that the liberator of Napoleon, met with clergy and bells, hurrying to swear allegiance to the French supostatu ...
And looking at not quite distant past, there is a risk of losing the remnants of common sense. The Russian Empire draw as a role model in terms of spirituality. But then where did the year 1917 as many sadists, murderers, Marauders, deserters and other especially clerics on the territory of the State. What was it? Flaws in the education congregation, which supported the clerics were engaged in a King-priest or the influence of aliens?
By the way, about King-priest, which surely served as Nicholas II. See what happens. Supervised by the State. In heavy for States abdicated, leaving this State to fend for themselves. There was a coup, later named the great revolution. Following this political murder occurred. Possibly wrong, but it was he who, by virtue of its better they all responsible for what happened with the State. And everything for this modern churchmen with the consent of the State was canonized Tsar-father. Harmful matter. And for what? So, for example, one hundred years from now, you will be able to canonicalize couple Ceausescu and Milosevic.
The Russian military apparently not aware that the country is under the pressure of economic and political sanctions. Otherwise, how can we understand a new idea of creative managers. Build in Moscow military Disneyland, this top idiocy! Why? Ask a counter-question. And for what?! No, really, no nonsense, here's answer to themselves. Well, for what it is. Repeat the trick of Peter I times shelves? No, then of course everything is true and correct. Budget spending, he will survive.
That's explain themselves. Why the Russian-speaking population in the Crimea is better than the Russian-speaking population in the Eastern Donbass? One, from the words of the authorities have defended, but others refused the right to return to their home port. Absurd logic? Do not hurry with conclusions. Perhaps the reason for such selectivity is in one piece, which would rather not remember.
Namely, Maisky, 2014 onwards, the visit to the Russian capital and meeting with Putin Mr Didier Burkhal′tera. It so happened that this gentleman is President of Switzerland and Chairman of the Organization for security and cooperation in Europe. After talking with this gentleman, the guarantor of the Russian Constitution as if substituted. What words have found to talk this gentleman, remains anyone's guess. But black label, as shown by subsequent events, worked very effectively.
I'd like to live to view than the Planar circus is over. And becomes sad from what will soon begin such times that Saints endure. Preparing for the big war is in full swing, and the majority of the electorate really is experiencing due to the absence on the shelves of imported cheeses and delicacies.
Are not due to a lack of personalities in the State, but from a lack of delicacies. Can you imagine in the Soviet era, which many feel dark and gloomy many brilliant and talented people, and in science and in industry, and in the cultural field. Not giving estimates, just look at the scale of the figures. Sholokhov, Pasternak, Tupolev, Kapitsa, Sakharov, Solzhenitsyn Korolyov, Shostakovich, Plisetskaya, Korolyov. Paradox, but ... At the present time, the victory of democracy in Russia, I find it very hard to find such brilliant and talented people.
Speaking of the Greeks, which mentioned at the beginning of this article. They had a pretty decent citizen. Yes, if anyone guessed, we are talking about Socrates. If historians, these fantazëry, we do not lie, then Socrates took part in military campaigns and threw a wounded comrade in battle. The truth as always happens in such cases, a good man got very quarrelsome wife. Well, sometimes it is in process of forces and capabilities of the skrašivala the life of the brilliant Greek.
There is a reasonable question. Rather than the Socrates practiced? Good question. This is Socrates, in the same clothes walked in Athens and ... Walked, pestering people and telling them the truth. Perhaps this is due to the unwillingness of people to know the truth about it and killed. Here's what I like in it, this is what he criticized all forms of governance, including democracy. Although in fairness it must be said that with the words of Socrates, the citizen must comply with even bad laws of their own country. Paradoxically, when the surviving tyranny, democracy he had sentenced to drink a bowl with the juice of poisonous cikuty ...
When I say that I am sad, believe me, not a single drop of lukavlû. I'm really sad to look at this whole circus. When very many people use words such as lunch, coffee break, primaries, impeachment ... Do not let Dunû in Europe, the only thing I want to say in such cases. Blindly copying foreign, spiritual and material terms, destroying its impossible to find happiness. No, I understand that it is the Russian State corruption. And there, at the prosveŝënnom West say in international dimension, this is called a normal market economy.

What lies ahead? Elementary. The catastrophe that cannot please. It is inevitable as things stand. Can certainly be wrong, but in my opinion the most important thing now, and important, it's not something to avoid it, but it is quite another. What? Again elementary. Importantly, it is how to emerge from the disaster, each man, as hope for the State. It in peacetime, even during natural disasters, throws the citizens to fend for themselves.
That's all that I wanted to say.
The author would appreciate comments.
Author Gorg June 2015 year
(P) . S.
Yours truly, never, not a supporter of the ideas of multiculturalism and tolerance. Although I can understand many people earnestly desire to live peacefully and be kind. But ... We love to talk about the many good things, but nevertheless with great appetite eat chicken, which killed at least kind and good people who work on the farm. Well we don't notice such things. We wish that it were not crime, but nevertheless do not accept tough measures against criminals by law enforcement agencies.
We advise how to work, but our advice is do not withstand a collision with the harsh realities of life. We loved giving advice to professionals, as they carry out their work. They suffered in silence and did his job. Now this has become for us a little, and we no longer advise and ask how and what they do. And this applies to all spheres of our life. We, and only we know how to build houses, treat people catching criminals, teach children, manage enterprise ... But the generation of the unified State exam (CSE) already breathes us in the back. Scary to think what and how they will advise and demand. Imagine we all reached a light moment in the history of mankind when the main criterion of success was the amount of food consumed by humanity and quality perevarennogo and removed from the body.
Than usual this circus ends? Elementary. Evil Uncle skušaût good uncles who thought they would be able to re-educate them.