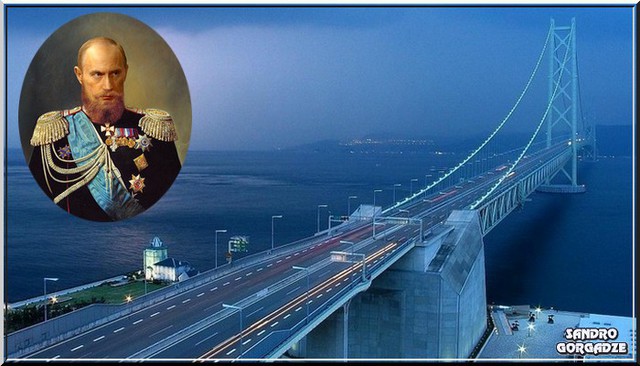 Dear Friends! Interesting topics to talk very much. Only manage to bounce away from the shaft, which information falls upon us every second, but ... There are themes of not just interesting, but very interesting. Kerch bridge and everything connected with it is definitely one of those interesting topics on which we today and stop ...
Instead Of A Preface.
Broken, not build. Yours truly, loves, when something is built. It's better than when breaks explodes, knocks ... Sandro, he on one of their professions, hydraulics and still Builder. Well, it just happened. So, today we'll talk about the construction of the bridge of Kerch and not only ...
So, our guarantor of the Constitution, in March the year 2014, Russia's Transport Ministry has set a very ambitious task. No less, and take and build the Kerch bridge for road and rail communications. So it should be. So to say, no such tasks that cannot be solved in the contemporary Russian realities. This is important.
For those who don't know, I say that for cars should be provided for four traffic lanes. With a maximum speed of 120 km/h. so-called face-to-face length, high-speed automobile roads of asphalt will be 19 km. If nothing changes by the end of construction, the bandwidth will be around 40 thousand vehicles per day. Here, so!
What?! Forgot about the line?! Not forgotten. According to the project, there will be two ways with the construction length of 19 kilometers. Conversion speed for passenger trains will be 120 km/h for trucks and 80 km/h, respectively. Well and accordingly crushed stone ballast concrete sleepers and Rails termouprochnjonnye. It is planned that the traffic on the bridge will open in December 2018 year. The trains will be used on the new bridge at 2019 year. According to preliminary data, the estimated cost would amount to 211.8 billion rubles. Although it is not yet evening. It has become a tradition, the increase in the estimated cost of that practice any construction in Russia.
After such a short chapeau, I suggest make a short digression into history. So to speak, for a better understanding of the magnitude of the project and everything around it. This is important.
How it all began ...
Everything started very even banal and prosaic. Dmitri Ivanovich Mendeleev, the great Russian chemist, after the death of his son Vladimir in 1899 year prepared for publication his unfinished work. , Project uplift the level of the sea of Azov, Kerch Strait, zaprudoju.
It is known that the very idea of such dams came from Vladimir Mendeleev in 1889, the year when he accompanied his father on his trip to the Caucasus. Then people think big, so to speak. Vladimir Mendeleyev saw the great importance for the State in the construction of the dam of the Azov Sea. And suggested it was, no less, and build a dam in the Kerch Strait, thus making the Azov Sea in deep internal Russian seas. But by tradition happened what happened. A lot of good ideas, but with implementation.
At the beginning of the last century, the idea of building the bridge became interested in ... Yes, the idea of building, in the year 1903 he became interested in Russian Emperor Nicholas II. As usual in such cases were brought in the best Russian engineers who ... I wish to draw your attention to the term project development. It took seven years and the year 1910, Kerch was drafted. But ... Implementation of the project was interrupted by the first world war.
Then came the revolution, when people explained that unless the rich all healed well and calmly and ... In the early thirties of the last century, Soviet scientists was designed quite large-scale construction. No less, and the railway line from the town of Kherson to the city of Poti, across the Strait of Kerch, which included and the construction of the bridge. Structural elements of the bridge had to order in Germany and ... Correctly. And this project was never realized, however, that now began the second world war.
That spring the year 1943 and ... Adolf Hitler demanded the start of construction of the three-mile bridge across the Kerch Strait. It was understood that this bridge will go and road and rail transport. Moreover, the leader of the German people was tasked, that construction of the bridge should be completed by early August 1944 years. Construction proceeded at a brisk pace. So percussion, that the Germans were preparing to start the first train, but ...
Uncle Joseph, well one that overrode Uncle Adolf, he understood and knew a lot. He knew that the Germans very shock, as in the construction of socialism, build the bridge, but ... But each time, the offer of military construction, answered. And this was common sense. Why bomb, if taking into account the situation on the fronts, it was possible during the retreat of the Germans get ready to bridge. Well, beautiful!
But the Germans, they sum up the leader of all peoples. Well, they did not have time to finish the construction. Although gift left even very good, I would say a Royal gift. Mountains of cement, many beams, piles and a huge number of designs ... Not disappear same such goodness?! Here's uncle Josef, ordered mandatory to finish the bridge. And began ... Construction begin to boil, although certain elements present in German designs lacked. Well don't stop because of such trifles construction. No, of course not. Just such elements were replaced with local materials. As they say, temporarily ...
The bridge was built. At the cost of enormous efforts and lives of many people. Construction was carried out despite the bombing of the Germans, and weather conditions. For seven months of work have been completed and ... The length of the bridge was 4.5 kilometres in width 22 meters. And in the middle of the bridge, there was a rotating device for the passage of large ships. The first train passed the station, Crimea, to the station, Caucasus, but ...
An unusually cold winter, and consequently, very thick ice layer formation in the sea of Azov. The dramatic warming in February 1945 year, storm and ... The ice has broken through to the Black Sea, and destroyed about forty-two piers. Destroyed, despite the efforts of his save attempts to crush ice bombing from the air.
1949 came a year and a new bridge project, in which he participated personally uncle Joseph. It was planned to build a bridge, four kilometers in length that would have connected the spit and Chushka spit coast of Crimea. Moreover, the bridge was supposed to be a two-level for road and rail transport. After weighing all the factors, and in particular the cost of construction came to the conclusion that ... Building a bridge is too expensive. So, peoples decided to build a ferry and ... In 1954 year already began to ply ferries between the two banks. Be that as it may, this ferry service operates to this day.
Nowadays, bright and happy.
I admit the history several long, but ... I would like to make one small, but in my opinion a very substantial clarification. Very many, so they are amateurs take confused concepts. Cause everything that is currently building a transport conversion. And here is the transport shift, in turn, is a complex of buildings that includes bridges, bridges and communication approaches. So it would be correct. This is important.
For such an ambitious task, of course, was the Expert Council is created. So is usually done. This very Council, brought together scientists and specialists from various design organizations. Usually, these bright head can solve many issues. Most importantly, it's definitely techno-economic justification of the project. And should be considered different ways to transport the transition. It is necessary to undertake a comparative analysis of constructive solutions, route options in different sections of the Kerch Strait.
Naturally, after a comprehensive analysis should be chosen the best option. The final decision should be not only the best but also take into account various factors. Such as dependability, the timing of construction and of course the cost of construction. They say that the blonde head spoke and ... Decided to build transport transition in Tuzlinskom cross-section. What?! Other options? Sure, the decision was made.
There is a reasonable question. Who will build? A very good question. I answer. Design and construction was engaged in a single organization. The Company, Strojgazmontazh. Only one, but ... It is owned by Arcadia Rotenberg. More questions?! No questions. And that's good.
Let, for understanding the entire magnitude of the project and the grandiosity of construction lead a little technical data. Quite a bit. To broaden their horizons. Knowledge never superfluous. Suddenly you will meet a beautiful girl, and she will ask you about this the transport shift. And you once, not straining, littered with numbers at once. Although, beautiful girl better swamp flowers, or at worst simply collapse.
So, in order to accelerate the construction of erection is carried out simultaneously from eight points. The beginning of the bridge takes on the Taman peninsula, then will take place on the island of Tuzla and will end all this splendor in Kerch. The pillars will be up as much as 595 pieces. Various types of piles will be even more, as much as much as 5.5 thousand pieces. Given the complex geology and high seismic survey, the depth of piling on different areas varies from 16 m to 95 m.
Evil tongues and seismic.
What?! Enlightened enough?! Start telling what they say evil tongues?! Well, so would immediately and told! Then listen. They say that ... Construction should begin, after research, develop options, long and very detailed comprehensive examination. This is as it should be, but ... In our case, given the critical importance of building everything was very nicely combined. So to speak, start, and everything will be done in parallel. Well, beautiful! What?! The basic principle is breached? You're an expert? No?! Then just let the professionals do their job. This is important.
And yet, evil tongues say that ... No, I would not have believed it himself, but ... Yevgeny Rogozhin, well one that Deputy Director of Institute of Physics of the Earth Sciences, told the public that ... It turns out, the Institute conducted research, naturally the most a very serious, serious themes and there ... Based on these studies, it was decided to lower the seismic survey with 9-10 points to 8.5 points. Brilliant solution which allows you to deal with reality. If you are not satisfied with the facts, then so much the worse for the facts.
Evil tongues did not say why it was done. But I still say you ... Well, imagine. The first option. Come bright head to ... Well, you know to whom and say that ... In the area of construction of seismic 9-10 points and ... No, build if you decide you can, but ... The world is crumbling, and our object will stand all earthquakes luck would have it, only ... Only need to do this incredibly unique designs, besides fantastically expensive. And voice numbers. From these figures the hair-raising, even if these very long hair anymore.
And the second option. How do you explain the light heads, that the object is very important for the State. That crisis, ne. They turned their heads nod, his blond head and soothe you. It turns out that with time, well, it so happens, seismic change. In a good way. We conducted the most serious studies and found that ...
Now seismic became 8.5 points. Lord-comrades, you are lucky. This fact will reduce costs and simplify the task of even designers. What?! To increase the probability of an accident? Requirements are budget?! Excuse me, are you a specialist? No?! Then don't wear rubbish, and not bother the professionals ...
But that's not all, evil tongues and straight to us talking about it. Many surely heard that place water area, where the grandiose building. How would this softer say ... Here is! Ered! It's like weak erections. Well, that is it kind of is, but it seems not. Believe me, the woman still in principle. Chubby is either there or it's not. And bottoms. They like to eat, and at the same time they both would not. They, these soils-soft ...
What is it?! IL! Yes, IL, modestly so called weak soil. And under it. No, not solid rock on which I rested the supports of the bridge. There, under a layer of silt. And a layer of silt from 16 metres in some places up to 90 meters. Yes, there, under a large layer of silt, clay that is kind and primer. No, compared with silt. Moreover, there under a layer of clay, if you dig deeper, then ... Tectonic rift there. But that's not all. One cannot say that there still is a network of deep mud volcanoes. But they can under certain conditions cause fluctuations in soil. This is important.
No, I understand that there will be piles. No, I understand that they are crammed in clay, but ... Imagine the length of the piles to undergo such a layer of silt and clay in zaklubit'sja. Imagine the number of piles. And yet, a couple of words, without the Protocol. This transport transition will take place through the island of Tuzla Spit.
A keyword is an island. Rather was the island. All the time the spit blurred. Moreover, it is not about there millimetres per year. No, what you are. We are talking about inches. The process goes and think that even a couple of decades and the spit will go under water. There are, by the way the space images. No, I understand that it is possible to use the island for a couple of meters, but ... Each time been?! How often?!
And how many more related trivia. There is also a thermal loads. Moreover, for the whole period of operation. If any, temperature fluctuations from0 +40 to0-20. And we are not yet talking about ice fields. Tell you a secret, but the thickness of the ice layer more than one metre. This is a colossal ice load on bearings with icing. There is a strong wind.
And this icing designs in any case. And who will fight with rail and road de-icing strips?! One more question. But even if you set aside all the negative nuances. The complexity that at the construction site. nowhere to hammer in piles. If approached with all seriousness.
And maybe a tunnel?!
And who can deny that? We do everything we can ... To the layman variant tunnel transition looks quite a worthy alternative to the bridge. It is not you nor winds nor frost ... Everything is quiet and the facilities. Quiet, light and heat. The tunnel goes deep into the Earth on the banks of the Kuban, and goes to the Crimea. All this is certainly attractive, but ...
Well, if in fact, this should be a couple of transport tunnels, and at least one, the so-called technical tunnel. And this additional costs and the additional complexity of operation and construction. Evil tongues that well never, experts say it's tunnels. Complete nonsense. Here because that's the kind of thing. Tunnel you can either lay in the ground, or he should sit on this very ground. Well, it is in theory. Lay, in which all known ground, which of course is IL. Well, let's call adventurism.
Plant, the tunnel on this ground, it's like viagra for weakened stresses the body. Here because there is no way to bypass a tectonic fault zone. And if it happens that the earthquake in this region are not uncommon. A tragedy comparable to ... No, it is better not to think about such a scenario.
By the way, on the ferry.
Why many characteristics, including the evil tongues that ... Ferry Crimea-Caucasus very even worked perfectly. No, not in the days of our movement to a better democratic future. No, much earlier, when the entire Soviet people in unison moved to a better Socialist future. Yes, I agree that the products were not so densely, but also because by and large on the way to feed people nobody promised.
So, this is the ferry included one passenger steamer, four rail and four automobile ferry. If eyewitnesses of what dark past does not lie, but correct to say do not distort the past. It turns out that the train ferry deck was stacked wooden beams, which allowed away from rail cars to transport road transport time. Savvy and common sense allowed do it. Cars carried a lot, and rumor has it that in lines more than three hours, no one was standing. This is important.
And what's next?! And then it was all, as always. Once the most fair in the World Socialist State ordered long live rail ferries sold in Turkey. Who sold?! Well, these are the most effective and naturally the most brilliant managers. They, they, more. What?! Money?! And the proceeds apparently purchased, up to as much as nine or ten new ferries. And ... Work in the past, the ferry calls quiet envy contemporary managers.
And about the environment.
If anyone does not know what ... Until the last century the Volga-Don Canal, and the Kuban reservoir, before the war in these parts, was the place to be, almost 40% of all-Union production of valuable fish and caviar. With the commissioning of these installations, the water became soljonee, fish-breeding conditions have deteriorated.
The Kerch Strait is a water highway which goes ... Herring, anchovy, mullet. Many people already do not remember what it is. Currently there are no hydrotechnical constructions for the passage of fish. Yes there fish. While still relatively ecologically pure region undergoes the intervention of Homo sapiens. Beaches, thermal springs of mineral water, therapeutic mud.
Construction policy, or politics ...
A particularly clever and around the jubilant over citizens consider that transport transition, it is all about the benefit that worth surprised how we lived without it before ... But these people, they all rejoice. If they now say Oops, and not needed at all, they are made with the same passion the fist will celebrate the fact that we have succeeded in this most oshibochku fix. I will tell you very happy citizens with definitely an active vital position. And what wonder. We have every second with this position.
Some, well, that is quite clever, but not yet dotjagivajushhie to genius, those generally believe that this entire project, he ... Has global importance and only from this perspective should be considered. Well, the type of the new Silk Road. Well, the way that the idea must pass from Britain to China, across the Eurasian continent. Well, beautiful! But true how!
And yet ... In the meantime, will be what it is. Profitability is missing completely, as a concept. What we are talking about, we would build and possibly catch skommunizdit' that bad lies. I wonder, well where did appear, the cargo traffic. No, if all know in the Crimea, then of course ...
And yet ... At all when it turns out that our happy and cheerful life, the only real benefit of transport crossing ... Yes, it is an advertising feature. Exactly so. Oh and ... Two Russian region of Krasnodar region economy rather and Crimea seemingly get a good tool for development, but ... The main issue is ... That will haul the bridge?! If the overall stagnation of the economy as a whole, it looks like a wish or a declaration of intent.
Project Grand and very ambitious. Very tight deadlines set and ... No, I'm not saying that unrealistic deadlines. In another case. It is extremely important to have relevant work experience and of course skills. Is there all of this available? A rhetorical question. This is extremely important.
I why so large dabs walked around this theme?! The reason for one. Show how all difficult and not easy. An enormous number of nuances. Is it possible to take into account everything and don't make mistakes? Time will tell. In the meantime, hopefully transport transition will be built and operated, it will be a long time ...
That's all that I wanted to say.
The author would appreciate comments.
Author Gorg November 2016 year
You can join me on social networks