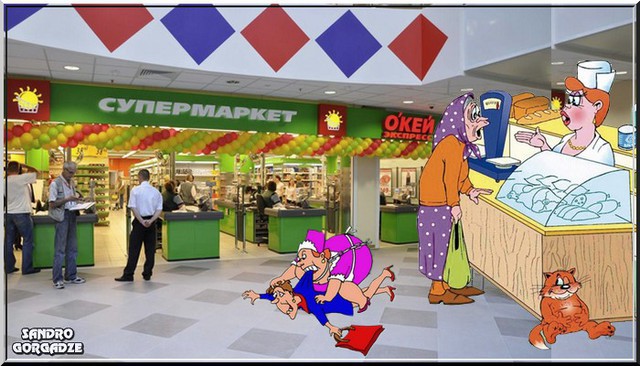 Dear Friends! Today, however, as always, by tradition, we will talk about ...
Unity of opposites and struggle. Since our first appeared on the planet far predoknačalos′ Division ... Strong and weak. Smart and stupid. Brave and cowardly. Thick and thin. Servant and Lord. His Majesty progress racing with a speed of express trains aspiring to Communism is not standing still and ... Rich and poor have emerged. Aristocrats and commoners. Superiors and underlings. The express train failed to reach communism, but ... Communists and capitalists appeared with primknuvšimi to them, their zabodaj imperialists Komar. But still emerged as the louse in military brothel sellers and buyers. This is important.
And sellers do not like buyers at the gene level, consider them stupid. Those in turn meet workers counter and dirty, and boxrooms ' reciprocate. And so live, mixed in the častnosobstvenničeskom symbiosis passions and instincts, but ... Each camping citizen in shop turns into a lottery, or if you like Russian roulette. Deceived or not deceived. If cheated, how ... There comes a time when every average and the deceived many times these sharks democratic trade an individual has the right to ask ourselves. Critter I shaking or entitlement?
And that's when this question, then you realize that war is inevitable. As the inevitable conflict between genuinely wanting to help their citizens live better and more fun, and citizens, by virtue of their capability in every way while avoiding the impending happiness to them. And if war is inevitable. Whenever you want to shop in preparing for any eventuality. Well, kind of like a general preparing the next operation, in order to win another General, the enemy. Although, sometimes it happens that and against his General prepares an operation. Here how it will turn out. This is important.
So, we go to the store. No, if there is a possibility there not to go ... It is better not to go, goal and budget. will be nerves But happiness does not go into a store not everyone falls. No, if you have a housekeeper, then it of course ... My dear, I understand that is the undeclared war between the retailer and the purchaser, but ... If you think that you will get store crossed the threshold under the crossfire of these Knights of obsolete products and incorrect price tags. You are wrong, wrong fundamentally. This is important.
The main task is not to scare the buyer. Running scared, leave and then write was gone. You must type bait, get to relax and then twist the pockets. A great number of ways. And invent all these tricks don't any Martians out there, not the wicked and vampires, but is very agile and honest Lord-comrades. They have the task force stalled buyer store to buy a lot of goods, even the fact that buying and not planned. Aerobatics. Roughly from the area where they are trying to improve the Russian economy, doing nothing, and nothing is changing. But very beautifully and creatively.
That you meets you when you cross the threshold of the store?! Correctly! Carts! You wouldn't be in the hands of the goods to the checkout. Here's. And then as the saying goes, the first attack by the store. A volley by buyers. If anyone does not know what ... Area, or if you want the size of these trucks has doubled over the past half-century. Well, the type of times needs increased, for our convenience. And all would be nothing, but a person so that seeing half-bared cart that we supply to the checkout on a subconscious level wish it did fill up. That we are worse than others, or little earn. And that there is no salvation from these trucks? That you, as you can! Even as-is! Grab your basket and you will be happy.
Think that everything from the store patrons ended and has dwindled since fantasy?! Naïve, big carts is just the beginning, so to speak artpodgotovka. That's all we love, pamper your body with vitamins. Simply put, like fruits and vegetables. Now it is in vogue. Type, we all are very advanced and maintain a healthy lifestyle. And what a healthy lifestyle without fruits and vegetables?! Correctly, it's without the bride or wedding night rally in the district centre without party representatives, Unified Russia. This is extremely important.
Knowing our weakness for vitamins, and it is in this spirit that, after the trucks at the entrance greeted us all fruits and vegetables. Well, type here is everything that you need. Buy not be stingy and ... All of this correctly, but as the saying goes and Loja beast can run out, and he still runs out. Magicians, those same sales professionals. They are trying to convince us that sold the freshest vegetables, which only possible in nature. Clean and shiny, and periodically sbryzgivaemye water these are sources of vitamins and begging in the truck, but ... One more question, how much time they spent in the warehouse until they hit the store shelves.
Go further, useful products lie in the truck and now it's time to throw it well quite never useful. Just kidding. We're not fuckers what there, we purposefully around the store in search of ... Correctly! Milk and dairy products. This is our everything. Milk, kefir, sour cream, cottage cheese ... We're going to the store, but ... There is a reasonable question. Well here's why those deft and honest people, like hide dairy products in the depths of the store. Elementary! For you to be on the road to this very smetanke not ponabrosali would restrain the cart a bunch of any unnecessary nonsense. Is there a way out of this situation? Of course! Prepare a shopping list. Everything! And it will be a small victory over crafty workers democratic trade.
Although, I hasten to warn, until total victory, about the same as before the first human flight to Mars. What only don't go to these bastards, what you would not have gone out of the store with an empty cart. They are provocateurs! They provoke you have the feeling of hunger. They want what would you saliva were stifled. They are bastards, on your way to have shelves with delicious smelling buns. How can you pass up a deliciously smelling confectionery?! Yes, neither in life, it all Gori blue flame! How can you not take a couple of delicious, judging by the smell, apetitnejših rolls. What to do, how to resist this aggression? Elementary. Eat, before trekking in the shop and you will be happy. This is important.
Well, imagine. You quickly gone, bought everything you need and are gone. Know it would be such Audacity on your part that I would understand all dislike to you by store employees. No, you cannot. Do not hurry. Why so quick to flee. Go, look. And how to make the buyer not to hurry, if soon, say, game of your favorite football team.
Remember, particularly competent experts advised citizens not to keep their savings in the same basket?! Well, type keep savings in different baskets, and if that ... Yes, you will be happy. And in stores. All are essential to the average purchaser of products. You guessed it, they are scattered throughout the store. This type of quest. Looking for where they have bread, here then are trying to find, where lie the milk and kefir. Then begin searching for the eggs and butter. And throughout your course meaningful traffic on the route, you wait all sorts of temptations in the form of beer, potato chips, chocolate bars and other different nonsense.
Think on the machinations of businessmen from trade end?! Yup, no way! These beasts of capitalism and joined to it at all had coils of imperialism. Scary thought, but ... In their desire to earn more money and to ease our wallets. Yes, they were using our children. Using the implicit nature of children, Socialist curiosity, they are on the path of future successors of the case construction of capitalism laid out grocery mines and other explosive materials.
Outcome of such inhumanity to children is predictable. Tears, screams, felting on not very sterile ... After all, your child is difficult to explain that not all chocolates, cereals, chips, and candy are equally useful for the child's body. And if all those engaging in bookmarks are clothed in a very nice package. Citizens who try to minimize quantitatively collective visiting outlets together with the child. In General, citizens, protect the children! This is important.
Nothing sacred. I'll say more. These bastards are tucked away in the labyrinth of shop cheaper goods. No, really. They will stop at nothing. Everything is calculated. The most expensive and not always the most qualitative goods have on the Middle shelves. So say the eye level of the average buyer. You see the most expensive product, and then trick or human nature. Psychology, it is all science science. You and tells you what's on the shelves above or below the item is lower quality than the one that is located on the Middle shelves. Beautifully!
Think of everything! Think this has dwindled since creative idea greedy merchants? That you, I beg you. Remember probably joke, when the store man bought a car, caravan, boat, tent, fishing rod, reel, line, hooks ... He went there merely to buy, sorry, feminine sanitary pads. And only thanks to the seller, he realized that in order not to lose time, it is imperative to do fishing, and for this you should definitely buy. Here it is the skill of the seller. It is definitely an Olympic medal.
So, very much seeks to replicate this record. Although this is just a pathetic attempt. What I am talking about?! Elementary! Related products! That's where the operational space! You pulled over a bottle of beer?! Fellow! And a number are already scoffing crisps, its beautiful and shiny packaging. Do you want to buy tea or coffee? Well done!!! Just don't forget that next you wait for chocolate, cookies and gingerbread. Want to buy shoe?! It's cool!!! Do not be surprised, but there are already socks and shoe brush. Here's how to work!
Everything?! No, of course not. Promotions! Buy a bottle of beer, and the second you get for free. Buy a tube of toothpaste, and shop, takes and gives you the second tube is completely free. And let not evil tongues say that traders are bad people. What?! More?! Well, buy a stick sausages, and second, the store you just give. What?! You don't eat so much?! It does not matter! Give your relatives and friends. What?! Product expired and not fresh?! Enough to pick and choose! You say that the second stick for free ...
All about what we have now with you saying so to say, a true cover façade faces the Russian democratic trade. Camping in a shop or supermarket, it's like walking on minefield. So far everything is decent, but it costs you zameškat′sâ and lose vigilance. And here, we must arm ourselves. But as usual, rearm the ordinary buyer. That's right, we must be armed with the knowledge of their rights. Oh, and the responsibilities of course. What kind of rights without responsibilities. This is very important. Tea, because we live in a State of law, or both.
When we all arrive threshold store, seeing the whole battery cells storage chambers. Well, the type of facilities for buyers, in order not to go shopping with their own bags and packages. Uncomfortable because, Yes and hands busy. And the hands, if you have already understood, they are for different goods move more in a cart or shopping cart. Oh, and ... And all of a sudden among Crystal honest buyers there will be those who want to throw the chocolate in the bag, and then, exclusively on forgetfulness not pay it at the box office. So you, my dear, shop the world let, and the master will start visiting landfills in search of food.
So here. According to article 421 of the SC RF you should know that take things to a camera store, this is a strictly voluntary. It follows that all of the requirements to pass things in the luggage room is very illegal. I'll say more. Store staff do not have the right to refuse you enter the showroom and shop, if you have a bag or package. Us not without pride for domestic buyers reports article 426 CIVIL CODE. Remember, and use on health.
By the way, the administration of the shop often being clever. Often, they regretted to report that is not responsible for valuables left in the cells. A lie and a provocation. Bear, even as bear. Where did know?! Elementary! Us reports article 901 CCRF. Whew. Sometimes there are other cases. Making his way as a saboteur behind enemy lines in the narrow aisles of the store, you accidentally ... Yes, its powerful shelf abusive accidentally shoulder and ronâete bottle or jar of canned food on the floor. BA-BAM! Everything! Finish! Achtung!
To you, not the points come from all forces lay employees of the store along with the guards. About as Germans fled during the war to rebuff the partisans. The main thing is that you don't have time to leave the trade point without saying goodbye, what Englishmen are undoubtedly a great experience. And not only not saying goodbye, but not paying for damaged goods. You begin to coax and bully. Moreover, you will start pushing, demanding confessed. Type I'm guilty and I will pay for everything naturally. But ...
Fully admit that you can and should have the strongest desire to take automatic and spread this halabudu to all the dogs. Grandfathers fought and Berlin took, and here what the hucksters trying to dodge their glorious descendants. Sha! Do not hurry to shoot! You can put in jail. Although, no, not in jail. Well, where did you get the gun! Don't tell me. The weapons we have only two subjects of criminal law. The weapons we have from the State and from thugs, from which the State must, logically, to protect its citizens. It just so happened. Moreover, there is an impression that the thugs in the matter of collusion with the State. Type make to arms in no way fall into the hands of the people. Otherwise it will be very, very bad, both the State and the bandits. This is important.
However, we digress. Don't shoot at the attackers. Remember that your protection is worth the article 401 CIVIL CODE which explicitly says everything ... Citizen takes responsibility for damaged or lost goods only in case of fault. What it gives? A lot of things. It is administration of the shop you must prove that you have had malicious intent, and you especially damaged goods.
And if not specifically, but by chance?! And in this case, you have nothing to fear. Then you will come to the aid of the RUSSIAN CIVIL CODE, article 211, which says that when it comes to unintentional damage of things, all the risks lie on its owner. And who are you?! Never until the owner paid for the product and did not receive a receipt. Where this is known? And us, not without bullying over trade networks reports article 459 CCRF.
Can freely make fun of aggressive protection and employees store. Type, they have very slippery floors and narrow passageways between rows of shelves. Can control in the head. Say to them that they have a very loose goods on shelves and shelves and racks are unsteady. I assure you these are your observations are very like. They will be delighted. What?! Staff did not agree with your observations? Here is! Well done!!! Let in such a case are turning our most humane and fair trial. And if the Court decides, then Yes, then it of course ... Then you with all your pleasure all naturally pay ...
And remember that article 1064 CC RF is too wonderful eccentricity. Well as eccentricity. So, a little thing, but ... It is this trifle informs you that ... The person causing the damage shall be exempted from compensation if he proves that the damage did not damage caused by his fault. This means that if you took a bottle of beer, a beautiful pyramid of similar bottles, then collapsed. This is a bad job and hands from the correct place at the employee store, not your problems. By the way. Remember that the distance between the Super racks shall not be less than one metre forty centimetres. Us tells Snip 2.08.02-89. Not superfluous will know that the bigger the store, the greater must be the aisles between the shelves.
What?! A lot of them?! What?! And the guards are present! Well done. Let the present. And that they still do. Only be present. There are very interesting and wonderful article 203 in the Criminal Code of the Russian Federation. This is just what is needed to neutralize the aggressive guard. Let it threatens, grabs you for sleeve, climbs to kiss harasses, rude, tries to dig out of curiosity in your bag ...
With glitter in their eyes as white torture chambers, Komsomolets in reminding the security guard that ... All his actions with persistence worthy of better use, fall under this wonderful article and are punishable by imprisonment for a term not exceeding seven years. Nicely though.
Why?! Everything elementary! The actions of the guard, it is nothing more than excess of authority employee Chopa (private security company). And to all the requirements of both the sellers and the guards proudly answer. Of course, pay the cost of damaged goods, but not before, as soon as my guilt will prove in a Court of law. And smile. This is important.
By the way, can strike. Certainly the store finds an expired product shelf life. Necessarily there, I assure you. Be sure to share his discovery with the staff. And they hint that they simply must remove this product in your presence. And you must, by virtue of their principles and active citizenship make an entry in the book of complaints and suggestions.
This very interesting book love to read during the next inspection Inspector of epidemiology. Why?! Everything is very simple. For such a breach provided a very even substantial penalties in the form of a big fine. I assure you, guide the outlet will be very pleased with your observation and be sure to thank you. This is important.
But as easy shop you, certainly not starstruck. Well, they know how to please the customer. At the cash register, and with the radiant smile, you can tell that they do not have delivery. Sailed! And what?! And nothing. PEP and the Olympic calmness. You just have to know that ... There are rules for operation of the cash registers where cash settlements with the population. Moreover, they, these rules approved by the Russian Ministry of finance, Ministry of finance, the best in the world, up to August 30, 1993 year number one hundred and four. So, to ensure a sufficient number of small money cashiers fully rests with the management of the trade point.
What?! The Director escaped and brought the cashier small bills? Myself?! Stunned! So him right. Now forward wine warehouses! But you, dear you enjoy early on my man. Know how many dirty tricks up his sleeve stashed these magicians by trade ... You have entered turns out to be lacerated. Agha. Sailed. And what?! Yes anything! Remember, I told you that you must smile in critical situations and not lose courage. This is very important.
On your part, it is worth mentioning these sadists from trade that ... In accordance with the instructions of the Bank of Russia of December 26 not quite distant 20060 year no. 1778-at the cash trafficking not only ragged bills, but ... Banknotes dirty, worn, torn, straight, penetrates, pierced, filled, lost corners and edges, with spots, glued ... The main thing that had saved number and series of banknotes. Believe me, if you enlighten their tormentors from the shop on this subject, they will be very grateful and thankful. Perhaps your children will talk about very èrudirovannom buyer.
Seemingly everything! Your trip to the store is almost complete. You almost intact, except for a certain amount of nerve cells, but ... That's wanted you to say goodbye to the good and long memory take some pictures which became already almost native outlet. And ... It turns out, workers cannot be photographed. With their words, it turns out that this prohibition relates to internal Rule. Well done. That's čudnen′ko. And you reply that you are never an employee of the store and perform their internal rules are not required to. Fortunately. This is important.
Can also remind them that bans on photography can be contained exclusively in federal laws and regulations of their native Governments, which by the way, has been headed by a big fan of this most photography Uncle Dima. Particularly advanced workers outlet, well they believe can refer to a trade secret. To refer to and proudly on you show. Type well and than open wilt egghead.
Look at them as an educator looking at kids in kindergarten and always with a smile reply that ... What would that ever was a secret, anything, you must first and foremost restrict access. And all that is in public places, there can be no secret by definition. That's in the back room can be a mystery, but in a trading Hall No. And smile, they love it.
When you make a couple pictures on memory, it's time to say goodbye with a bed-and-breakfast. It's time for the honor of knowing. Be sure to tell you that workers accompanier you very glad to acquaintance. Definitely will go to him in the case. Moreover, recommend trading point friends ... The ladies at farewell hand kissing is not required, but is encouraged. About you start legends, and guards greet during the meeting. Shop management each year will congratulate happy birthday ...
See, the usual camping food and how many wonderful people will learn with a good hand. How many friends you have. How many new things about themselves will hear. That's how people find glory. This is important.
That's all that I wanted to say.
The author would appreciate comments.
Author Gorg August 2016 year
You can join me on social networks