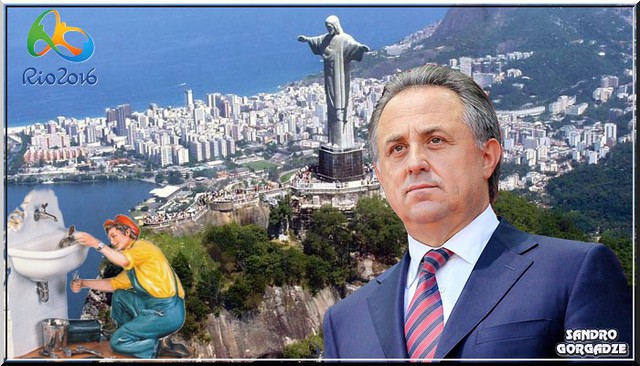 Dear Friends! Today we'll talk about love for the sport. Yes, that's exactly how I would put the question. But the Olympics and other sports, I would not put in the forefront. The love of the sport with all the ensuing consequences.
So, let's start. Perhaps there is no such person who didn't like sports. No, not in terms of what would go into the stadium and run. No, not in terms of what would go in the pool and swim. No, not in terms of what would go into the gym and work out on simulators. No, not in terms of what would be waking up to begin the morning gymnastics. No, and again no.
Our love for the sport is another oil painting. We love sports, sitting comfortably in front of the tv screen pre buying beer and chips. We love sports, sitting in the stadium eating all the same chips and sipping a beer. We love the sport, while the sports bar with the same sports fans, directing his views on a large monitor hanging on the wall, parallel to the eating snacks and drinking alcoholic beverages. We all love sport. This is important.
By the way, in addition to the nationals of the sport he loves and his native state. No, not in terms of the construction of new sports facilities. Why build them if there still people voluntarily do not go. Why not go?! Good question. Well, motivated by the fact that exercise in our time is very expensive, but ... In my opinion this is just a convenient excuse and justification of his own laziness. This is important.
State, it loves to show off and be proud of their achievements. And, by and large, it's still what to be proud of. Increased milk production milk from imported European ladybugs or athlete broke another record. There is a reason for pride. That means officials knowingly eat his bread, and the country is the right course. And what, the results contradict many objective laws, the case of the tenth.
Perhaps, say perhaps I am wrong, but ... In my opinion, the era when to achieve outstanding results in sports was enough diligence, skill and natural data ended up in the middle of the last century. And then ... And then his Majesty's doping era. Remember the times when literally everywhere in the decaying capitalism competed and dynamically developing socialism, which seamlessly escalate in unburied communism.
Plovčihi former German Socialist Republic, showing excellent results. ... Resistant reflex until disgust. Boyfriend shapes just flashy on the application of certain drugs. Moreover, as saying all knowledgeable evil tongues, East Germans worked the whole pharmacological industry helped dig for gold medals. Time passed, but nothing has changed. How to take illegal drugs, and continue to take. Both tried to catch athletes in this lesson and continue to catch.
Ironic, but true. For decades, athletes, in all countries, have taken and continue to take illegal drugs. And all was okay. Records, television broadcasts, advertising ... Everything was perceived as a tribute. There were romantics, who believed that everything had been sportspersonship without doping. And then, again, and any idiots declare loudly that doping is a terrible crime. AHA, now. And motivate their activities concern about clean sport and sporting achievements. Naïve, to say the least.
Sports greatest achievements ... Here, Sandro pondered. How to properly formulate ... Ask athletes don't take offense, but they are for power, that's roughly what were for landowner hounds puppies, coach ... In short if, then solid show-off, sorry for slang. To speak before the people and congratulate the people of another sports victory. Give rise to joy and pride. Oh, and of course recall, under whose guidance all of these successes have been achieved. This is important.
But as always happens in such cases, everything depends on money. And not just money, and big money. The International Olympic Committee (IOC) with the tenacity worthy of the best application did everything possible to commercialize. And for doping including. Ponder, certainly contributes to the development of sport, the increase in prize money for winning ...
Money and medals, that's the goal. And this goal leads only one way. Development of sports Pharmacology and intensive application of it to achieve results, even with health risk. What?! And what about the equality of conditions for participating in the competition? Don't worry, everything is normal. All take doping, and thus all in equal conditions. Well, almost in equal conditions. Beautifully! This is important.
Evil tongues say that the so-called collision of Russian sport, this is a pre-planned action. Well, Yes. Who will argue. Thus sports powers get rid of competitors at the Olympics in Rio de Janeiro. Perhaps. It is not excluded. Admit even that is part of a single plan to transform Russia into a pariah country, but ... Something like this with permission say plans helps Russia itself, worthy of entering into many record book. Enchanting idiocy on the background of Clinical Schizophrenia most incompetent specialists branches. This is important.
For a long time the most important issue for the Russian electorate has become the question of the admission of Russian athletes at the Olympics in distant Brazil. News went completely predictable and correct fertilisers. The intrigue lasted until the last moment. Whether to allow our wizards from pharmacology robed in Tracksuits on games or will not allow. That is the question! Even the dollar is less interested in sports enthusiasts headed by Mr Mutko. Like allowed, but with a bunch of reservations and limitations. The victory! You can again continue to love the sport. As usual, our German partners are not left behind. Well, as partners. So, evil friends. There are also spoon spoonful of fly.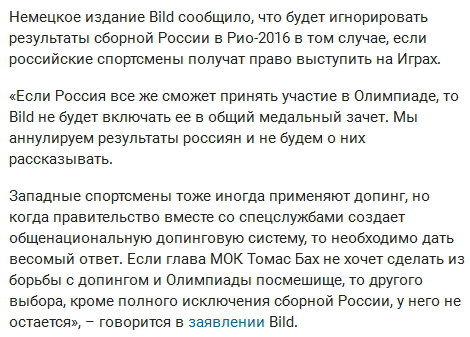 Let me say a few words so well-wishers who believe that only Russian athletes went to roll forward in matters of doping. This theme is as old as the old Olympic Games and other sports. Well look, in the distant year of 1989 already, famous Canadian Ben Johnson was caught in a reservoir used stanozolol. All his brilliant results for the period from the year 1981 to 1988 were taken and cancelled, and the athlete was disqualified for two years.
Think he did the appropriate conclusions?! That you are what you say! Back in the big-time sports, the Johnson again, in 1993, was caught on doping, and naturally got already a lifetime disqualification. Think only decaying capitalism and joined to it imperialism begets such athletes?! What you! Suffice it to recall the case against Bulgaria in weightlifting. At the Olympics in Seoul have not Bulgarians and sent its athletes home. Came and went. Why?! Good question. Yes because they were implicated in doping by two eminent Bulgarian weightlifter. Here and decided not to speak out of harm's way.
And if you recall the famous Love Wilson. A lot of injuries, a huge desire to win and ... Triumphant return, and ... 1997 World Championships in the Czech Republic. Gold Medal in the race to five kilometers and ... Catching in the use of unauthorized bromantana, reset gold medal and ... Recognition that the drug recommended that the coach and the athlete did not know that it is forbidden ...
A single case in the history of Soviet and Russian sport?! Yes, there is a system. At the Olympics in Athens Greek Russian shot kernel Irina Koržanenko was stripped of the gold medal. The machinations of enemies? No, it just caught in applying forbidden stanozolol. Not slow and runner for the records. These capitalists at all go for the sake of gold medals. Moreover, some of this family tradition. In the summer of 2007 year, famous begun′û Marion Jones, stripped of the three gold medals and several silver medals she won at the games in Sydney. And fall for doping and her ex-husband C.j. Hunter and Tim Montgomery.
And if you take, for example, tennis, so to speak, elite sport very much beloved aristocrats. Think everything is okay. AHA, now! Remember, probably the famous Martin Hingis?! So, this imenitaâ athlete at the end of the year 2007 announced that it was retiring from the sport. You may not believe it, but it turns out that not everything and it was good in terms of receiving banned drugs. Two year disqualification, and it's certainly taking into account past merit ... And this I haven't been talking about Maria Sharapova. If Martin was accused of cocaine use, in the case of the Russian athlete, it was already about to avoid trivial nabivšem mel′donii ...
It turns out athletes along with their farmakologami looking for new drugs, and those who position themselves as fighters against doping are looking for new ways of detecting them. But man, he's very inventive in nature. And athletes, in my opinion, the creative. Especially those who craves gold medals and the price is not him. Brilliant in its simplicity the combination was invented by the Nordic athletes. What?! Good question!
If doping cannot be, it must be ... Legalize. How?! Another good question! With the help of a medical certificate. Everything elementary! Yes, so did Norwegian sportsmen and sportswomen. Imagine what came to them of Yemen capitalists and imperialists. They have become, if we assume the existence of medical certificates, used in battle for the gold medals of sick people. Nothing is sacred!
Asthma! Here's Assistant for lifting on a pedestal. No, really. Not lying. Moreover, the number of athletes who suffer from asthma, it grows in very frightening progression. Seemingly ill athlete, let is treated, but ... How can what is there asthma become an obstacle. If anyone remembers, at the 2002 Winter Olympics in Salt Lake City, almost all Norwegian biathletes and cross-country skiers were asthmatics. Even the invincible and brutal OLE Einar bjørndalen. Can you imagine how convenient! Got help and can safely take medications that are sort of like doping, but you need them for medical reasons. You make accusations, and you spravočku them. Well, beautiful!
I want to reassure fans of cross-country skiers and biathletes. You're right, asthmatics are also found in other sports. And there they are fighting for gold medals and ... Yes, and win, who would have doubted. As they say evil tongues, asthma rooting Paula Redklif, the European champion in the 10000 meters and Jackie Joyner-Kirsi, repeated Olympic champion in athletics. Mark Spitz, Amy Van Dajken, Nancy Hogshead and Adrian Moorhouse holders of Olympic gold medals in swimming. And figure skaters Kristi Yamaguchi and Irina Slutskaya did not avoid asthma ...
Here above, I mentioned about Mr.-Palau Mutko. Well, who the Russian sports like ... But what actually claim to it? He alone makes the decisions? This gentleman is a friend just a cog in a big state machine's mechanism. If he hesitates, then together with the General line. Russian society was divided. Sports news reminded frontline. Be allowed or will not be allowed. If you won't, then all or selectively. Who is to blame and what to do.
Part of society it is very experienced, that will not be able to love the sport under the beer and chips in front of the tv set. The other part of that sport does not like, has offered loud slam the door and do not go to these games in faraway Brazil. Type, and their wild monkeys. Please note that such precedents in the history of the Olympic Games have already been.
Suffice it to recall that Germany with its allies removed from participation in the Olympics the year 1920. And this fate befell sportsmen of Soviet Russia, which did not participate in the games of 1920 and 1924-St. Let's put it this way, almost miraculously, has not been derailed by the Olympics in 1936, Germany. Olympic Games 1980 in Moscow were boycotted by. Then flew answer when Socialist camp countries naturally unanimously ignored the Olympics in Los Angeles. Politics, she is such a policy.
Evil tongues say that does not go, you can save money. Well, what about money I would not gorâčilsâ. Even if it would save them, I assure you they would be in any case would be offshore. But, but beautiful! I don't like to give advice. The more free advice, but ... Here let's see what most, if I may say so, is afraid of the International Olympic Committee. And Sandro, you answer. This is the Committee, most feared collapse of the Olympic movement.
Well, the Russian leaders would need to help in this very split. Vociferously declare that ... Given the current environment surrounding the unhealthy game of Russian athletes and unfounded accusations and suspicions against them. Believe that their participation impractical. And that's all. Yes, and no contributions to these committees and federations.
Don't like Russian honey, then have sex with her bees themselves. Everything. And all attempts to establish contact to pretend that ... They sent a letter with a proposal to discuss the situation. And in response to silence. Type, there is no connection. They are trying to call, answering machine says ... Well, the type of call later, the Subscriber is temporarily not available.
What?! What is to be done with these Crystal honest people from WADA ?! No, I understand that they have to watch out for doping athletes. Let and. For the remaining. And exclusively without Russian cash contributions. let them pay Themselves, their check. Beautifully! And the result is an interesting situation. Customers come to a brothel in order to put a new record for the number of satisfied girls.
Naturally used viagra. Where do without her. And apply all. And the administration of the brothel tupit. Type of money for the entrance of Russian athletes we take, and that's not allowed. Type, everything should be honestly say using only the stuffy nature potential ... Let they themselves there. We, girls will not find ... And then, so we give them the money to pay, and they are laughing at us. You type without the viagra no capable. Yes, who would have said ...
But now of course too late. Train rather plane in Brazil had already departed. But in the run-up to the football championship of the planet, you have to play it safe. So, gather the spirit and express. Type, given the serious financial difficulties, with great regret, of course, but ... We cannot hold this very world. The more that there is information about applying almost all the players of our opponents for illegal drugs. Here's to you and explains the failure of Russian players. Our not used nothing but these won that doing ...
And finally to confuse our foreign sports partners, put them on the table the last Trump.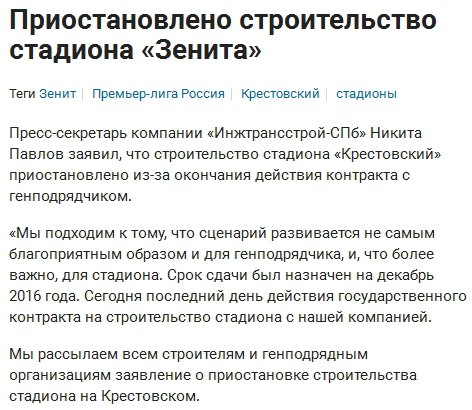 In the meantime, these capitalists and imperialists to them of Yemen will digest the information. In the meantime, they will think about attracting funds for completion of the stadium. Spread another trump. So say the watchdog in the head.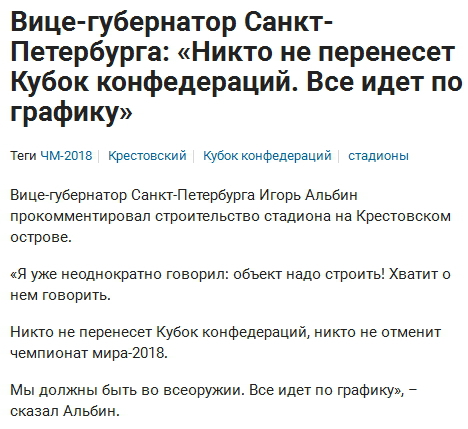 Here and let the head break. Taki stopped construction, or everything goes according to plan.
… As usual in such cases, the athletes at the Olympic Games in Rio de Janeiro, by tradition, the guarantor of the Russian Constitution. Well, you type out there let us, if anything, we are with you, the victory will be ours. You could be there, not move. All would be nothing, but here with Grand form entered ... How would rightly say, in order not to offend anyone.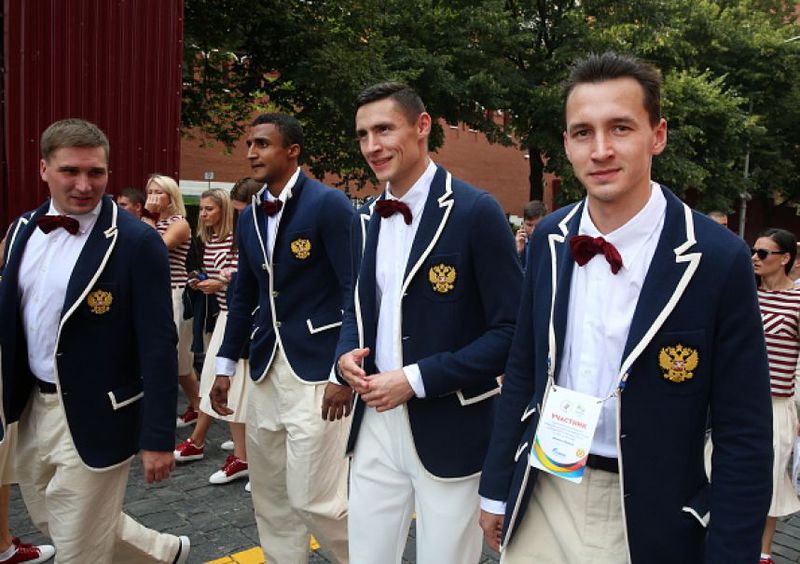 What?! No, this is not a contest of waiters. Evil you. Didn't see it, the athletes. They are the same in sneakers. Where sneakers?! Excuse me. Wait a minute.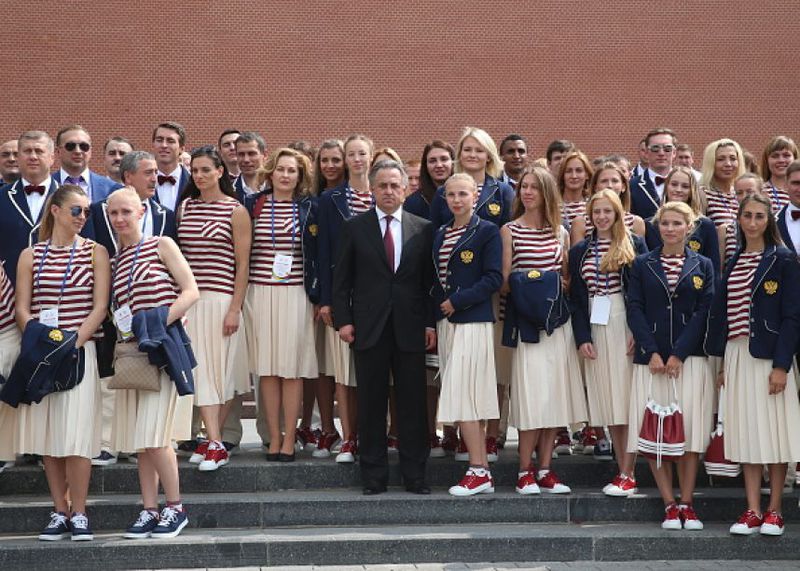 Now visible?! And all citizens become scoff. Type, it is not a Russian national team athletes, and most real waiters. Yourself you waiters. See citizens in sneakers. That's trail. What?! Sneakers only for girls?! Mr Mutko in shoes?! Here is the evil you. Get.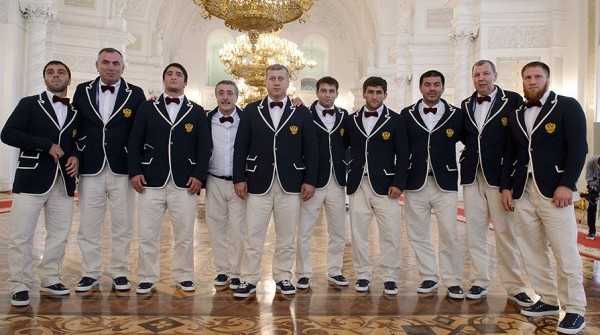 Satisfied?! And that's good. By the way, well can't say about us, that was such a beautiful and excellent form for Russian Olympians. This firm Bosco Sport. The firm is headed by a very eccentric personality. I would say very slick and honest person. Mr Kusnirovich, the Mr.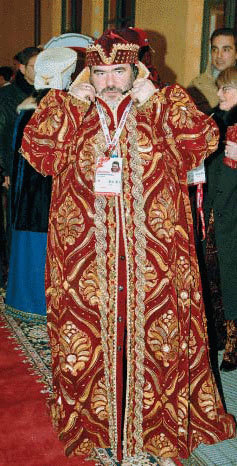 About love to sport this gentleman can be read here, here and here. What?! Brilliant me?! Well, as you say. Perhaps this is not plagiarism may repeat. Themselves look at the shape of Ukrainian Olympians of the year 2008 and the conclusions themselves.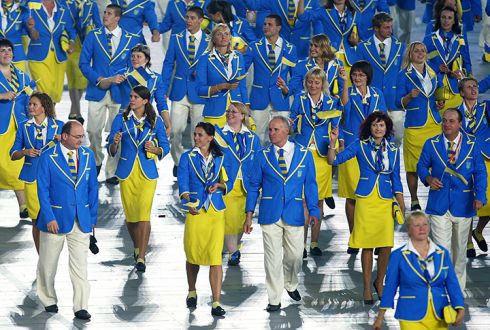 But we digress ... In addition to the first person in the State, spent athletes and uncle Cyril. To pray prior to departure at a sporting event, it's definitely a good tradition. His Holiness certainly knows his business.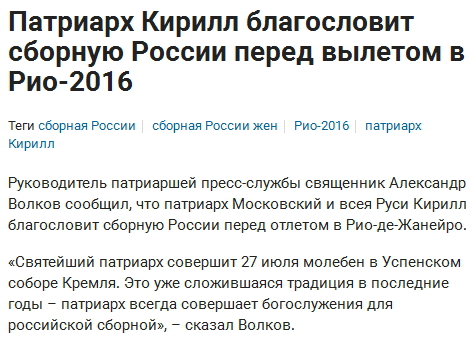 What's next?! And what could be next. Or pretend that there is no space in the big sports doping. Yes, you're right, or acknowledge that doping takes place and ... And continue to enjoy his victories of Pharmacology and continue to love the sport.
That's all that I wanted to say.
The author would appreciate comments.
Author Gorg August 2016 year