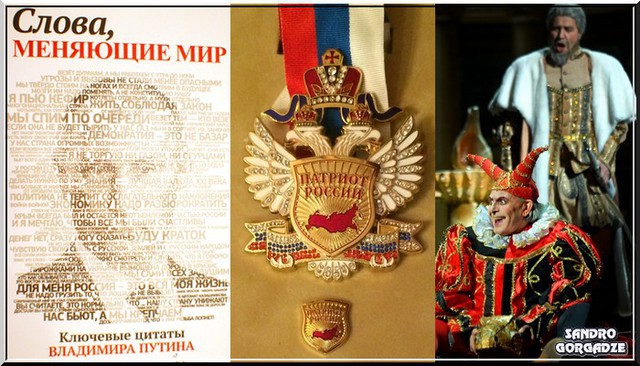 Dear Friends! Today, our conversation will be dedicated to the theme of patriotism. Moreover, the red thread, at least very much hope it will pass the development assistance mechanisms of true patriots of the fatherland.
And do not here me hysteria, that patriotism is the last refuge of scoundrels. Stay perfect clever books and the very essence of the universe and not understood. Is there, in the countries overseas, perhaps it is. This is important. And we cannot be, by definition. Our people, they are the last shirt will be removed in order to help all the poor and the sick. The truth is it happens that removed the last shirt from the Middle, but as they say, from the excesses of no one immune.
And if we are ready to help all and sundry, then do we deny help native fatherland. No, of course not. Let the enemies and have no hope. Confused by the lack of true clear mechanisms for civilized manifestations of their patriotic feelings. And this is not good. It does not have a gut. When such non-system approach, there may be all sorts of perversions that there could be a drop shadow for a good effort. Everywhere should be consistency, with its systematic approach and natural order. This is important.
After long reflection came to the only correct decision, and again, the system solution. Now, in extremely difficult for homeland time, it is vital to establish a Ministry of patriotism. I immediately so as not to be biased in self-interest, to lead the Ministry won't be able of natural modesty and a huge lack of time. But I think the issue with the head of a newly created Ministry will be successfully resolved. Sure, that's not even true patriots were ready to serve the fatherland ...
Naturally, this is not even under discussion, it is essential to establish a rank, Russian Patriot. Believe me, so it must be. Propose and I think you'll agree that there should be no egalitarianism, as prisnopamâtnye in Soviet times. Announce that accompanies this rank order, will be the highest State Award. Moreover, not worth paying attention to objections pseudo Patriot politicians and outright enemies and pests of inexpediency of such a decision. Issue a decree and everything. Naturally, depending on the patriotic contribution to the common cause, the order will be different degrees. , Patriot of Russia, 1st degree, 2nd degree and 3rd degree. And this will be true in all respects.
Arhivažno, otherwise you lose the whole point, to oblige the recipients, daily wear order. And at once there is a seemingly simple question. Given a certain, I emphasise, a certain part of society that loves all sorts of undeserved privileges and preferences, it will be necessary to protect the newly established order of fakes. This is important. It seems to me that the order should be small, easily removable, washable and. .. Yes, if you haven't guessed, with powerful electronic stuffing, which should be fully standardize data collection.
Summer posted on the t-shirt or shirt and go! Autumn came, took and posted on the jacket. It became colder, winter came, easily moved the order with autumns jackets at a winter coat. Convenient same! And most importantly, always and everywhere you will see who the true patriots is close to you. This is important. May well arise harmful matter. Here you are, everything seems to be thought out. And what if, let's say, a true patriot in a bath?! Elementary. If anyone knows, it has issued in the bath towels. So, there is nothing easier, place the order and please, wash. Again, visibility is present. You can see who of Patriots is close to you.
Protect against counterfeiting, will be a bit difficult, but ... Creating a database of recipients, we and this seemingly difficult task to solve the apparently insoluble. In doubt? Nothing could be simpler! Set up your Smartphone to search for true patriots and all parts. It will scan, naturally by checking the base space, and gives you the exact amount of the Patriots are next. It is very convenient. Come, let's say in the institution, and your gadget already signals associates which it contains. You can hold a small meeting. Or, as sometimes fashionable to say, synchronize watches.
Go, see still encountered injustice and ... Right, together with the Patriots, who are close, you begin to address the issue. I can't immediately solve, then order using modern technologies naturally refer to database, notifies the other Patriots of problems. Very handy in my opinion. And hear the question. Sandro, and how, by what criteria will be awarded to citizens of this order. A very good question. Ask?! I answer. Everything is very simple. Words, though correct, it's just a Word. And you take it, and prove its commitment to patriotism. Material, for example, help ...
People have evil, harmful and occur in their opinion quite a fair question. This how?! Steal, brought to some lamentable state homeland and withdraw the country from the provisions must all together. The most harmful matter from ones I heard. Be ashamed. Stop immediately. Stop. You have said, that is not the time now to look for the right and who is wrong. Here we will display the country out of crisis, here's the catch with external enemies, then ... Then very strictly and will deal with internal irresponsible elements and pests. And maybe we won't. What?! Hard to believe?! Evil you!
Suggest, well, as long as the personal initiative to oblige every true patriot monthly help native state a specific monetary amount. Well, kind of, my contribution. If labor groups and oligarhat, support my initiative, then it is already possible to help motherland downloads. And not so that anyone can ... No, it is a fixed sum of money may well contribute to the salvation of the fatherland. At first it is appropriate would be if each Patriot will write, or rather sign a ready-made application form where it asks you to enumerate certain sum on patriotism. But this is only the first step, say so in its infancy ...
Then, and believe me, so would be very handy, it will be necessary to improve the system of collecting money. Accounting, will itself enumerate the funds true patriots in overall spike. Admit that there will be dissenters. Admit that they do not want to tear the umbilical cord that keeps their dead grip with častnosobstvenničeskimi interests ... What you say here. Will bring up. Hands, let's say not to. Declare our patriotic boycott. Posting pictures of irresponsible citizens for public viewing.
To school or kindergarten you will go. Well, where kids were instinctive, spend most of the day. Explain to the children that their mom, Dad arrive very badly. Ask affect them at home. The most irresponsible citizens must be very uncomfortable, among the true patriots.
Before you know it, the month will take place, and even before, and irresponsible all realized and flee to his native accounting write statement. Well done, as they say better late than never. It is encouraging to know that already, even without waiting for the creation of a Ministry of many already think in unison with yours truly. After all, what a difference! Simple you're working or a Minister or Deputy Minister. The main thing that common cause do! Here's a recent, look, people, well the one that exists on the World Wide Web, got excited about much. So got excited about that sleep just can't. Why?! Good question! I'd say patriotic issue.
And all because there is a very good man, a Patriot with a capital letter. He spoke with a very even, with the patriotic initiative. Deputy Head of the Ministry of energy of Russia, Mr Vyacheslav Kravchenko, told at a press conference about his vision aid native fatherland. He suggested that the most likely talking to colleagues, a very interesting thing. Charge with the Russians, the subscription fee for the use of electricity networks.
Good job!!! Kudos To Vyacheslav! No, Vyacheslav Glory! This is important. And although the draft of the Ordinance passes public discussion, I'm sure everything will be fine. Some one hundred or two hundred rubles, it is not such a strong impact on the family budget. And if you count across the country, help the State Treasury will be very substantial. Here's, you know, always believed that the true patriots are much more than enemies and Frank pests. We just very shy and modest people. Often, it is very difficult for us to communicate their thoughts and ideas to the people.
With impatience wait for new initiatives. After all, if each Department, each in his workplace. Brainstorm and new initiative ready. Because the ideas so much, that one should only bend and lift them off the ground. Brush, blow away dust stagnancy and everything you can give a new idea in life. Use, for example, water?! It's cool!!! Not guessed?! Hence, it requires a subscription fee for the water pipes. Here you have more cash on patriotism.
There is gas in the apartment? Well done!!! Here's yet another subscription fee for gas networks. Well, I am a sewer ... What?! You have an outhouse?! Cool! It means to pollute, with all the ensuing consequences. You know, can't help but take the initiative. Suggest Vyacheslav Kravchenko, award, order, Patriot of Russia, 1st class! Well, there is a bust in the homeland of the Patriot, there are different benefits. This is important.
Suggest and it certainly must support true patriots, another project. Sorry too for an involuntary detour in Physiology, but difficult for States not to conventions. It is known, and this fact does not hide that anyone, regardless of political preference produces ... How would it say that would not offend the ear ...
Let's just say, man produces, bunches. Well, that is the spoils, to be more precise it pollutes the air. And this is sorry me, ecology. Rather the pollution of the environment, or what it has left. So, it is necessary to introduce a fee for most of these, bunches. Calculate the average number, bunches, the average citizen, hope to force the scientist community.
Above, I mentioned that there should be no difference between the true patriots. Work you or a senior administration, all have to do. It is heartening that even the Russian President administration, there are people, who no doubt can be called Patriots. On new year's Eve, so say new year's gift from the true patriots true patriots, the book was released. Indeed, since the Soviet era it is known that a book is the best gift. The book is very modest.
,,Word, changing the world. Key quotes, Vladimir Putin. P.ervyj Deputy Head of Kremlin administration, Vyacheslav Volodin, rightly observed that it should be required reading for any policy. This order! And in the first degree. So, do not hesitate to Buzzword, the perfect gift for every Patriot. Earlier classics read in the family circle, well there are different tales, here come ... But here quotes!
A collection of quotes is not very big. So, only four hundred pages, nineteen parts ... Author of the idea, Anton Volodin of the youth movement, the network, which is supervised by the Office of the Kremlin's domestic policy. Anton argues, and I fully endorse that book really need. It proves once again that everything said Vladimir Putin, everything in one degree or another comes true. Well done! This is important.
Can't say about a little law makers failed. No, everything is fine, all right, but ... Feel and true Patriots will agree with me that the estimated price of the book in eight hundred rubles clearly understated. Little! A public debate is needed here. Price must match the content and significance of the book. And here's plans to increase circulation in the near future, fully support. And it must be long-term work is necessary, especially as demand for the book already exists, although it will appear in stores only at the end of January.
I cannot but endorse the idea of translating books into English. It correctly. And I totally agree with Volodinym, that foreigners should definitely understand fairness of Russian politics. Embarrassed by the truth that the translation will be made only in English language. I think that this is not malice, but the usual bug. This is what happens the rest of the inhabitants of the planet who do not speak English, will not be able to understand the fairness of Russian politics.
And here, your humble servant dawned. It happens, that is what it is. Kids. And where is the education of the younger generation of Patriots?! It is imperative to publish this book in the children's version. Well there with pictures, colors, redesigned text ... In an age of high technology, you need to publish an electronic version of the book. Do not forget to publish the audio version. Oh, and there, if broad patriotic public support, can and must make to the public discussion about the film adaptation of the book.
As you can see, the key plans. For every true patriot no end of work. But the main thing is the idea. No wonder they say that in the beginning was the word! Yours truly his word said. Now it's up to the rest of the Patriots. There is no doubt that my initiative will be approved and picked up. Only in this way, and that way, we can become stronger and monolitnee. And let the enemies and irresponsible elements. They will not rest until at least one true patriot remains on the Russian political scene.
Recently flashed a message on the blatant ugliness. No, so the thing will not. It turns out that Crimean officials enjoy expensive toilet paper. And where, in the Council of Ministers of Crimea! I suggest all Crimean Patriots take the issue under control. And for its part, suggest, get back, time has come to the old, heavy dedovskomu method. What?! History should know, be ashamed. Mugs! Yes, use instead of toilet paper common burdock. So to speak in terms of import substitution. Cheap and cheerful. Yes and the savings spent on education case of true patriots.
Case, or rather an episode with toilet paper shows that we have to be awake for a minute. My dear, you can't relax. You must be alert and fully prepared to meet any kind of excesses in the field. And then ... Yes, you are correct, and then will be all happiness.
That's all that I wanted to say.
The author would appreciate comments.
Author Gorg January 2016 year
(P) . S.
Dear Friends! I am shocked to say the least. Wrote all this text, realizing that he was a figment of my imagination, but patient. It turned out that I hopelessly fell behind life. I think or suggest another absurd idea. It turns out that it has already been successfully implemented. Well, as after this work?! Don't believe me?!
Rector of the Voronezh State University of architecture and construction (VGASU), the 36-year-old Sergey Kolodyazhny received the Golden order of the Russian Patriot. " University Manager rewarded socially significant initiatives support fund "leader" at the first formal admission "patriots of Russia" in Moscow on June 5.
Guests have become leaders of domestic business, politicians, representatives of science, education, culture and public organizations. The event was attended by Chairman of the State Duma Sergei Naryshkin, his Deputy Alexander Zhukov, Chairman of the Board of Gazprom, Alexei Miller, patron of Alisher Usmanov, the politician Vladislav Tretiak, conductor Vladimir Spivakov, Alina Kabaeva and Olympic champions Evgeni Plushenko.
Gold Medal «Russian Patriot "established with the aim of improving the image of Russia at the international level, as well as to attract public attention to the socio-economic and political processes in the country.
(P) . S 2.
A book of Vladimir Putin in St. Petersburg received a total of 6 people is Governor Georgy Poltavchenko, speaker Sachs Vyacheslav Makarov, co-chairs of the Petersburg branch of the Russian national front chief physician of the 20-th City Hospital of St. Petersburg, Tatyana Surovceva, Rector of ITMO Vladimir Vasilyev and co-Chair of the Department "business Russia" St. Petersburg Vitaliy Fateičev, as well as the head of the Executive Committee Aleh Dovganyuk.
There are people to whom my wife is very highly respected and calls him a professor from America. As for me, I'm this person very much. Do not ask for that love. I do not know. Just love. So, with his serve looked one video clip. With this work I know, but ... What makes this Roma ... As for me, so no need to stage, important public and everything else. All this pales beside him. Brilliant!