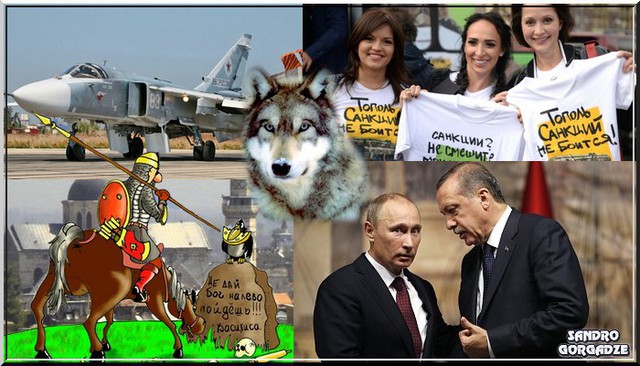 Dear Friends. Time, or rather the sweep of events with the speed of express trains. That day, for looming us prepares ...
Last fall, Pope Francis, and is certainly a great authority in the modern world, not without some sadness told mankind that a third world war which for a long time kept telling the media, Taki began. It's like the judge announces the beginning of the match his trill sports whistle. But a sports match. But we are far from a match and a real grinder that with growing tempo start grind of people and ...
Only the blind can see no obvious trend. Russia, for many reasons, all actively involved in a military stand-off... Moreover, homegrown army leaders and strategists apparently never learn history. This is important. Otherwise they would know that a war on two fronts to win virtually impossible. Ukraine, Syria now. Stab in the back from Turkey, a guarantor of the Russian Constitution. Axiom, an escalation of tension always leads to large-scale hostilities.
I don't understand the fear, or that just don't want to believe, the malice, the Turkish State was recorded in partners and friends, the Russian State. The impression that the decisions at the highest level accept people are not adequate, either completely lost their sense of reality. It borders on idiocy, multiplied by their outrageous incompetence.
Never being committed to tolerance, can afford to speak without beautiful philological wrappers. So, never, descendants of the janissaries were not friends or at least partners dear Russians. Always, I always stress, they fought with Russia. Either alone or together with its opponents. Even in peacetime, with all the complexities of the so-called cooperation, Turks did not forget who is in front of them. Who? Elementary. Enemies. You have a different opinion? Have the right. Blessed is he who believes, who ...
No, it's not a Caveman nationalism. I have no claims against the Turkish people, I just wish to draw attention to the policies of the Turkish State and the Turkish state here is the thing, something that fundamentally changes the whole geopolitical picture on a chessboard. Remember this date. November 24, 2015 year Turkish fighter aircraft (F) -16 shot down a Russian Su-24 front-line bomber. And the rebels, supported by Turkey, could not deny myself the pleasure to shoot down a Russian MI-8 helicopter, which flew to the rescue of pilots.
And ... But so far nothing. No, menacing the Russian diplomatic offices not less menacing statements by the father of the nation, this of course was the place to be. Movement of to Syria anti-aircraft missile system s-400, he same, Triumph, which is intended to destroy the modern means of air attack. There is a reasonable question. Question harmful, but ... And that prevented the transfer the anti-aircraft missile system before? Nothing hurt. Surely the Russian leadership believed that the appearance of a Russian airbase in Syria will be greeted by the descendants of the janissaries stormy and prolonged applause.
In all fairness, I would like to note that assurances of Ankara, has to be the protection of Syrian Turkomans, who are members. Well, this is the type, as in the case of Russia the Eastern Donbass, when the electorate was announced that we were defending, and will protect the Russian-speaking population of the region. That such protection is out you know ...
It turns out the paradoxical thing. Mr Recep Erdogan, who is President of the Turkish State was able to demonstrate a willingness to defend Syrian Turkomans, though ... And here's who is President Vladimir Putin, the Russian Government has not decided on the use of Russian armed forces to protect the Russian-speaking population of the Eastern Donbass.
It is clear that the actions of the Turkish side is not a tragic accident and not annoying misunderstanding. Planned action, which, unfortunately, turned out to be a complete surprise to the Russian side. But where brilliant analysts? Where professionals? Where willingness to all sorts of provocations? Each failure there are specific perpetrators.
I understand you can say about the guilt of the Turkish side. You can, of course. Why Russian front-line bomber, flew without a cover? Here's to the point, who's to blame? No, I understand that we can with the Caspian Sea send heartfelt greetings to terrorists. No, I understand that we can this very heartfelt greetings to pass through strategic missile carriers. This is all well and good, but here's who left the bomber without a cover? What? Sneaky blow in the back? And anticipate the likely actions of probable opponents or partners?
Many will disagree, but your servant has to say. What has happened and still happens, there is nothing more than prevent Syrian trap for Putin. And field to maneuver the Russian side with each passing day more and more. The whole tragedy and hopelessness of the situation is one extremely unpleasant for Russia. You can. You can now shoot down Russian planes and not just aircraft. And anything beyond that will not. No, not hype. What? Complex c-400? Agree, but must be the political will to use them. Apply if there are appropriate circumstances? Not sure ...
What options are there on the Turkish side for aggravating the situation? There are, not one. If anyone knows, will announce, without revealing a terrible military secrets. Supply of the Russian military base in Syria, mainly through the Black Sea Straits. Like it or not, but it's a fact. The Bulgarians, they have already made their choice. They closed its airspace to Russian aircraft, which follow in Syria. And it is also a fact.
Is there any other way to supply Russian military factions? Of course there are, but ... How would it say, in order not to offend the brilliant strategists and analysts. You can of course go to Syria from Vladivostok. Pass the Pacific and Indian oceans and the approach to the Suez Canal, which belongs to Egypt, but ... Are you sure that Egypt will allow passage through the Suez Canal to Russian ships, which would be performed by such a long way. Why should they? What? The Russian Federation and Egypt partners? No, of course I believe, but then be with travel sanctions? Because tourism, this major component of the economy of Egypt.
No, not everything is as bad as we say enemies of the Russian State. Everything is much worse. There is another possibility to organize the supply of Russian military bases in Syria. Air bridge. Yes, air bridge. In this way during the war between the USSR and Germany supplied guerrillas deep in the rear of the Germans. But that was a long time ago and in its territory. And with Syria Russia common border is not, if you are not familiar with this fact. The Organization remains air bridge through Iran and Iraq.
But here, too, there will be questions. You know the reasons why Iran and Iraq will not close its airspace to supply Russian military grouping in Syria? No, now pronounced, mostly from the Russian side, word about the strategic partnership and long-term cooperation. Moreover, the same words pronounced with regard to Turkey. And in a situation when Russia will remain one, the question becomes rhetorical.
Iran, which we are told a friendly Russia State, and hardly a strategic partner, not worth it in side and baked on their national interests. There are, well, let's just say almost reliable information that the Persians are ready to supply the market with oil price of 20 dollars per barrel. And this is just the beginning. Might be cheaper, because of low production costs. Iran is able to fend for themselves. Russia has made many efforts to improve the defensibility of their southern neighbour. And that regular strategic victory for Russian diplomacy in its splendor. And this is not a kick in the back, and is much more serious than it seems at first glance.
But even if allowed, the airlift, it is very expensive and it is not safe to exercise. Where at any time there will be a danger of destruction by Russian aircraft on the part of many rebels. What remains? Go from Syria? Prestige, loss of face with all the ensuing consequences. But remain deadly dangerous. It is impossible to get the victory always awaiting the impact from partners and allies that are more dangerous enemies. Not in vain because there is a saying about getting rid of allies and partners, and with the enemy we will ...
I hope that nobody would argue that it is pointless to destroy terrorists and to join in a coalition with those who are behind these same terrorists. That's roughly the same that carry water in a sieve. Tired badly, and water or not. How do you win even a small war, using a limited amount of military equipment. Demonstrative destruction of Russian aircraft is much more than military action. This is the position. Moreover, as the one or the other.
I'll say more. Remained unjustly forgotten, another action. If anyone knows, in early November, the State of Israel has made the bombëžku airfield in Damascus. At a time when at this airfield was very much military cargo. And what? Yes nothing. The valiant Russian diplomats protest even not stated. And what about the statements of fully closed the skies over Syria? How could the Israeli air force to carry out this operation? Miracles, and only ...
We would like to say about those who want to be on duty at the post. No, I understand that the military, in the normal sense of the word, in the Defense Ministry of Russia has already left. Understandably, they were replaced by military managers, but ... Idiots, their ears heard the Russian office after the shooting down of the aircraft indicated that it was destroyed by terrorists from the ground. Well, type here has nothing to do with Turkey. It didn't work, to save the honor of the uniform, although some honor Mundhir here you can talk. Turkey does not become a get involved in political games, and openly, proudly said that Russian aircraft had been shot down exactly Turkish fighter.
'M exaggerating of course, but ... If you hit, it is logical and correct to hit reply. You will not be sane to demand an apology from the offender. Moreover, he contends that is not going to apologize, and if that hit you more than once. Here's what it is, and everything else from the evil one. Another thing that statesmanship that is to prevent the occurrence of similar situations.
If someone is not clear, then I'll try to simplify thought to limit possible. Mr. Erdoğan, for many years was preparing for war. And nobody, I repeat nobody, that fact and did not hide. Moreover, Mr Erdogan wants this war. Flashy peacefulness, this is only for external consumption. But do not forget that modern warfare, it is not something that stuck in our minds. Often, this war happens to be silent, quiet and very efficient.
Look at the one event from a different angle. Energy blockade of Crimea. Crimea in darkness. Dark, cold and very uncomfortable. So, yours truly has a very strong suspicion that the blockade has played an important role it is Turkey. And anything can be done. Turkish trail beside the priš′ëš′, Yes and there is no case, and will not. The tactic of small steps to create discomfort of Russia, the Turkish side uses 100 percent. So this is just the beginning ...
Than Russia can answer? I wouldn't be so raised the issue. Than theoretically Russia can answer? So it will be more appropriate. You can try to denounce the Kars Treaty of 1921 year. You can of course intensify its work on the establishment of an independent Kurdish State. You can actively discussing the topic of the Armenian genocide at the international level. Much can be done, but who will do it. Here's the main issue. Managers from politics, such steps are not able to ...
Many say that it was necessary to urgently evacuate Russian tourists from Turkey. Immediately summon the Turkish Ambassador and put an ultimatum to Turkey. Public acknowledgement of guilt, apologizing and naturally punished. Withdraw the Russian Ambassador of Turkey, and Turkish Ambassador expelled from Russia. Minimize any cooperation and break off diplomatic relations. Ask to return to public service, former head of Rospotrebnadzor Mr Gennady Onishchenko. This gentleman in an instant ban imports from Turkey, which naturally find something nasty ...
Put a clear task masters Solov′ëvu, Kiselev and others, who daily šoumenam Flash on the tv screen, like flies in the summer heat in the kitchen. Albeit belatedly, they need to tell people about the heroic struggle of the Kurds, who had long been living under the Turkish yoke. It is worth mentioning the Kurdistan Workers ' Partyas the progressive avant-garde of the Kurdish people to fight for their independence. Be sure to mention the roles in the struggle with the Turks, Abdullah Öcalan. But there's a nutty time, which for political reasons must be carefully avoided. You see, up until 1998, the Abdullah Ocalan lived in Syria, Damascus. Dad is the current leader of Syria, Hafez Assad, kindly gave him such a possibility, but ...
The Turks were apparently very persistent and creative. At the end of the year 1998, Mr. Hafez Al-Assad asked the Honourable Abdullah to leave Syria. Well, type visited, as long as he could, it's time for the honor of knowing. And that left to do? Right, leave and seek political asylum in other countries. You'll be surprised, but such democratic countries like Russia, Italy, Greece denied Abdullah Öcalan. Well, it just happened. And ... But nothing, at the beginning of the year 1999, I suspect that not without interference, was abducted by Turkish special forces. Kidnapped and put into prison in the Turkish island of Imrali, that is in the sea of Marmara.
Of course, arises a certain analogy with the prisoner of the French island of Saint Helena, which there is not without the help of the British, but this is another story. Our Ocalan and several did not stand on the scale of the individual with that famous prisoner. As the saying goes the wrong level. By the way, about the French. That's not love I these gentlemen, and it's not even in the frogs, where love these natural food lovers. Cause everything that ...
Imagine, a guy come to the Russian capital from the Northern Caucasus. Beautiful, strong ... His equally beautiful and strong in the past, the Pope gave him the address of his old friend, and other very senior. He cherishes friendship and takes under his wing for dzhigit is hot. And the ... Kurolesit′ starts in the capital almost every day drunk uproars. The rented apartment arranges orgies. Apartment master sends to prison, and he is sleeping with his wife. Then got involved in politics, enters into a relationship with the enemies of Russia. Imagine howls as Liberals and Patriots of the dominance of those from the Caucasus. Such newcomers we don't need ...
But I just summarized the plot of the novel Monsieur Dumas, about the adventures of brave D'artagnan, only changing the scene. Imagine this brave sneaking Gascon we all put in an example. Moreover, they admired more than one generation. And movies, which were filmed. Meanwhile announced that Turkey will give Russia a dead body of the pilot of the Su-24. Why then he remembered the fate of Alexander Griboyedov, killed in Persia in January 1829 ...
And now, in conclusion, let me say a few words about terrorists. To be more precise about the correct and incorrect terrorists terrorists. Imagine there are turns and such. Rather, they have always been. Those who supported the Soviet Union, called by fighters of the Sudan People's Liberation Movement and freedom fighters. The Western world called them terrorists. In turn, the gentlemen had their fighters with Communist ideology, which all progressive mankind with words of Soviet propaganda called terrorists, mercenaries imperialists and capitalists.
And now in the Middle East. Each side has its own freedom fighters of the Syrian people against terrorists. All shoot in all and all against all. And all are appealing to international law and the laws. Although, what we are talking about. Strong and great powers do not follow laws. Moreover, I never followed. For one simple reason, they these same laws themselves establish. Whether to include Russia in a number of these powers? A rhetorical question ... It's sad to watch, but it all falls. What will happen next? And no good. Battle end already summed up the humanity to the dangerous line.
In the meantime, court Yes business, city of Saratov is again trying to be ahead of the rest. Or rather, not the city itself, and some very creative. And all would be nothing, but dragged children into politics, it's too ... Saratov students intend to announce a fundraiser on the release of the bomber aircraft to replace aircraft shot down over Syria, the Su-24. The interesting thing is that most of these children were unaware of their initiative. They apparently did not report, and it was the impromptu Director Tatyana Rajkovoj agencies. Local officials certainly supported such an initiative, especially since we are talking about a letter from Putin, where reports on a new patriotic effort.
That's all that I wanted to say.
The author would appreciate comments.
Author Gorg December 2015 year.
(P) . S.
Watch this video. Look, what year were uttered these words. It was not foresight. It's just common sense and the analysis of historical reality.