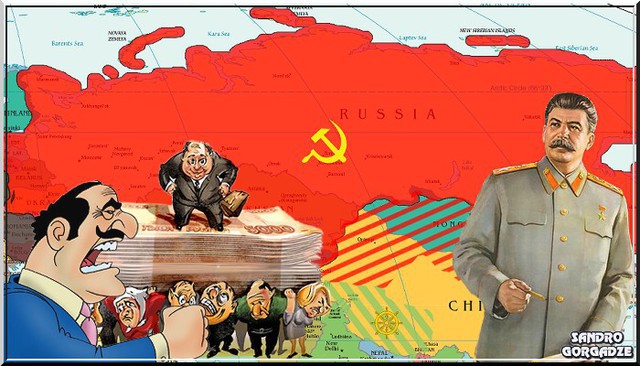 Dear Friends!!! The stated theme is so great that today we shall try to just walk along it a cursory glance, that would rate the chances of the romantics who are still hoping to triumph over these centuries-old evil.
By tradition, let me step back for a moment, which seemingly has no relevance to our discussion. To start, take a look at the wealth cycle in nature and their conservation in our society.
Here people live on our planet work, invent, are engaged in creative work, raise their children ... Moreover, these same inhabitants of our planet produce and own all sorts of material values. Well, as it turned out. And when to take the number of material values for the constant, the result is very interesting oil painting. No, the population is growing, and of course the constant will vary, but still ...
I think that will not open the dreaded buržuinskoj secrets if I say that a very small number of people owns most of wealth. And a very large number of the inhabitants of the planet has negligible part of the property. Disproportion, or if anything there is imbalance. Moreover, I note that this imbalance can be attributed not only to the inhabitants of the planet, but also to the States. But what is that?!
Tangible assets, which have a small number of people, you can either find or take. No, I agree that you can make, but that's a separate issue. Why?! Well, at least because it can rather go not about earnings, in terms of the work, and to give the work to other people and to have the very good earnings. With regard to the promise, to find wealth, then of course you can, but not as many, which is owned by the fortunate ones. It turns out that one can only take in a large number of people and give yourself a.
No one with wealth voluntarily to leave does not want so and were made up by the intelligent people of various ot″ëmu mechanisms of these very values. In fact, it is the economic mechanism, and the military. Everything else, are the numerous variations on the theme of relatively honest weaning wealth among the population.
A small sample of not quite distant past. The second world war coming to an end. The defeat of Germany was only a matter of time. United States Treasury Secretary, Henry Morgenthau had drafted a plan of ruralization of urban Germany. What he was? Everything is very simple. Strip teaser country all heavy industry and turn it into a country of pastures and fields. I think it is clear that by denying, as assignment of ...
And now, you can move on to talking about corruption. As much as I can remember and hear that humanity is successful in combating this scourge. Left quite a bit, and this defect was finally defeated. Then a solemn meeting, rewarding best in this fight, a banquet and farewell to corruption to the dustbin of history where it's place.
But wake up in the morning, and you see that until the final victory still oh so far away. The harsh truth of life is in contradiction with the romantic hopes of naïve humanity. Why?! Well, many bright head and unacknowledged geniuses at length to explain why it was a mistake. Build new theories and new schemes and will draw graphics. And ... Yes, guaranteed promise that this time, they have calculated correctly, and the inevitable end to corruption is just around the corner.
It would seem, everything taken into account, but not for corruption. Although with the words of these people, it is the last and decisive battle. Somknëm series more closely join hands and advance!!! In my opinion, all these theories, diagrams and charts of the most important and overlooked a very important point. Intentionally or by simple mental, but it is an indisputable fact. Do not take into account human nature.
This is because all the good people in fairy tales and Crystal fair creation, lacking only put wings on her back. In life, unfortunately it is not as far as we would like. No, I have no doubt that there are good people and honest, who will argue with this, but ... Many are simply being judged on its own. If I am a kind and Nice, and all the rest are the same. Negative, I'd say a criminal mistake.
Read Chinese thinkers. It is they, very true noticed very important moments of our life interesting, of course. If there are good, then there are evil. Good, necessarily side by side with the bad. Crystal honesty goes side by side with theft. Whether we like it or not, but that's it. So, it turns out, corruption is invincible, if you look at the whole course of the fight?! No, well you have the same Chinese has their own recipes for combating this disease, although not all admit that they like.
The Chinese, the Chinese are there local, if I may say so, the experience of fighting corruption?! Of course there are, although it as Chinese experience many may not like it. But, as they say in the song "words not be dropped off. Let's see how this evil battled father and leader of all peoples who still frighten small children. If he wins, this beast?! No, of course not!!! Tried?! More like tried, many still shudder to remember this experience.
Stolen always! Moreover, it is a favorite and traditional activity does not depend on the social system. When tell beautiful tales about the greatness of the Russian Empire, then smile. No, let them talk, tea is not the totalitarian Communist time we live. Democracy, even in the Russian version, allows you to express your thoughts and views. They say that at the time of King-priest everything was so good, that people began to disappear meaning of life. However, as subsequent events have shown, the stark reality that already once in irreconcilable conflict with coming up with the picture of life.
Stole, as is all. As it turned out, many have been victimized. Industrialists and bankers, as it turns out, behave just like their current colleagues. The army, as it turned out, was not that powerful as we speak. Industry, as it turned out, was developed by foreign developments. It turns out that when the leader of the world proletariat companions on a scientific basis, I can excuse the slang, the revolution might give the impression that sustained the grateful people only and waited for the historic moment. Take a fork and ogloblû, that'd go over to their benefactors.
And what is there with his uncle Joseph?! What?! Made from the mausoleum and exposed the cult of personality at the 20TH Party Congress?! Who is this dispute!!! The monuments of his demolished, and glorify ceased in accordance with the general lines of the Communist Party of ... By the way rumor has it that the great helmsman Mao Zedong, who led the Chinese people to a better future, was very much against this attitude to uncle Joseph. He probably liked it, although what love can be between politicians of ...
Evil tongues say that while the State was the uncle of Joseph, you can describe a very good joke, which then could get a free trip to the Northern Territory, where it was possible to calmly and freely cut trees. Then it was a very popular pastime, as Greenpeace has not existed.
So that's the joke. It turns out that when half of Stalinism is sitting in the Gulag, the fells forest and creates an atomic bomb, the second half of their guards, and even a bit of nomenclature, which eats caviar of distributors. In reality, of course, it was all much more difficult and not so fun. Certainly played an important role in many circumstances. Political, social, economic ... ....
Italian fascist theorist Baron Giulio Evola, a philosopher and a refined Aristocrat wrote about loyalty to the principles that should be in every revolutionary.
"For every true revolutionary conservative issue is fidelity to principles, not to those agencies and institutions of the past, which are the only private expressions of these principles, available at a specific time for a specific country"
Rumor has it that b. Mussolini, another leader of the working people, this time Italian, read his works, but never had the privilege to be familiar with the philosopher in person. And the fact that it was where he and Baron and an aristocrat?!
But back to the legacy of his uncle Joseph. Recently had a conversation with one of the economists, even the old Soviet school. Smart man, although many things can not accept it. So, this man argues that Stalin's period in the history of the development of the State, it is one of the most prolific and successful periods.
Do you agree with this statement? Of course, the Liberals might object, but ... No, if you look in terms of nation-building, and not see it all of the common man, then surely. But, in my opinion, what is the power of the State, if it is not the happiness of the average person of ... Although admit that notion of happiness all people different.
Oh well, what the uncle Joseph, as he was involved in the building?! Was he, as it is now fashionable to say, a citizen of the world, or at worst a cosmopolitan?! No, of course. He did not trust anyone. Did not trust foreigners, and similarly, not believed and the victory of the world revolution. Thought highly of Ivan the terrible, which contemporaries know only that he has killed his own son. And even then, if it were not for the famous painting, that generally would be ignorant.
Uncle Joseph all perfectly understood and knew the true cost of their subordinates. Potential traitors, l′stecy and an exceptional degree of ineptitude. And if we talk about normal heads, these are likely to have been the exception to the rule.
However, as demonstrated by the harsh truth of life, there is another very interesting point. Many people and leaders in particular, are a love for things and comfort in the home. That Joseph Stalin made?! The basic thing, brilliant in his incarnation of the idea. Become a leader here and get to their office furniture, equipment, flat, country house ...
And all this with the permission of say luxury, took the post instead of to a specific Manager. And this rule operated universally. And concerned leaders in economics, military affairs, and certainly in the field of culture and art. Lost post, then respectively, lost the benefits of civilization and go either on a free tour cut wood, or go to a meeting with God for a serious conversation ...
Whether such an approach helped to fight corruption and bourgeois decomposition?! Certainly not helped, but we have to admit that kept the leaders in tone. Weak people, well I want him to live in luxury. But this desire over time very even transformed and became the modern realities of ugly form ... As with this natural desire to fight?! And again everything is elementary!!! I heard this expression as rotation of staff?! This is one, at least, are quite effective method used uncle Joseph.
However, as it is now would say head was accustomed accountable for their words and their actions. What methods?! Well, as I put it, in order not to offend anyone. At the level of instincts, but rather fear and only he was the whip and the carrot at the same time. You could lose your job, and you can become a rider without a head, in the strict sense of the expression ... This is an outrage and a violation of the rights of the leaders was offset by results, like this fact to anyone or not.
Now the situation is diametrically opposite, but on the other hand, human rights and the rights of course are met, and that's the most important thing. Well, there's no result, so that there is always an explanation. And in the light of contemporary realities and the vector of development, as it turned out, managers are not to blame. Blame the Americans and the Europeans with their sanctions. Neb′ûŝijsâ joker is able to explain any failure in leadership than either and anyone. If not cunning, it should be recognized that all managers dream of light, lead and never meet in our definitely a very fun and interesting time finally came true.
Whether opponents of the uncle of Joseph in its fight to eradicate vice and human weaknesses?! But how, where do without them! Ironically, opponents were ... supporters of party!!! Yes, it is they, the old revolutionaries, exiles and agitators of ... Do led by Vladimir Ilyich revolution is one thing, but managing the national economy, that's a whole other story.
Delusions of grandeur and old service to the party and the State. As it seemed to many of them, it's an iron warranty from interfering in their lives. Error, bordering on criminal. Uncle Joseph, regardless of merit, between the development of the State and his party, chose the development of the State. The tyrant, in short. Well, let it be stolen, decompose. At all would be enough wealth to ...
And how surgical instrument, so to speak, owned the dyadya Joseph?! This tool will definitely be NKVD, which masterfully owned interrogation techniques borrowed from entertaining dentistry, Gynecology and proctology. Another tool was, of course, to give the people the love of writing. Very encouraged when one Soviet man described the life of another Soviet citizen, and this with the permission of a masterpiece of creativity forever poselâlsâ in the archives of the NKVD. True evil tongues called the case donositel′stvom and stukačestvom, but only as long as they do not become writers essay for the safety ...
Father peoples was aware of everything and everyone. It saw the whole process of the decomposition of the Soviet elite. And the elite, which was formed of people who have climbed out of the gutter. Dynamics of processes was even then visible, just many could not or did not want to see it. So great was the temptation skommunizdit′ what until recently they directed and managed, but might at any moment to lose along with the post.
Fear for his own life, was the only deterrent that at a certain stage, brought to fruition. But the elite, it is very tricky. And here, even uncle Joseph couldn't foresee everything. It, as it seemed slender theory keep elite in tight gloves, tragically died under the tireless onslaught of ugly facts.
It wasn't long by historical standards and ... You may not believe it, but the former Director of a furniture store, became the Minister of defence of the Russian Federation. And not only was the lead military Department and invited to the huge money, his wife's cousin, Mrs. Vasiliev, Dmitry Medvedev, who coincidentally became mistress of the former furniture maker.
And all would be nothing, but as it turned out, the former furniture maker was by now married to the daughter of a very distinguished person Viktor Zubkov. Can you imagine the feelings of his father-in-law, when he discovers the black ingratitude retaliated son-in-law, his family. This is where the legs grow much of the theft of many billions of the country's military budget. Anatoly serdyukov is certainly to blame, but he and ... not to blame. And then it was invented by ingenious phrase that didn't know the history of the world of law. Misguided!!! That is, until then, were criminals, thieves, witnesses of ... And from that moment on, a new figure in the process is misguided!!!
The Communists, of course, does not consider the episode legacy of the totalitarian past?! You, I beg you! If you look at the relationship of Georgy Zhukov and Lydia Ruslanova, the trend is visible to the unaided eye. A very high relationship, claiming the rule rather than the exception of them ...
Speaking of Marshall Zhukov in my opinion more accurately all posted by Joseph Brodsky in his poem, the death of Zhukov,,. These lines are self-explanatory I think...
BOI! The history of the Russian page
Enough for those in the infantry ranks
Boldly entered the foreign capital
But back in fear in his ...
Ever notice a paradoxical thing. Many love to talk about fairness, but ... You have listened to these people, and you are amazed. All are willing to live honestly and in good conscience, but waiting for so will live someone else. Type, you start, and we will continue with it! Craftiness is clean water. One need only be a romance, as a neighbour, forgetting about their promises to live honestly, skušaût this fool and ... Correctly, will continue to talk about why we have to live honestly and not to steal.
That's what I say.
The author will be grateful for your comments.
Author Gorg May 2015 year
(P) . S.
Obmel′čali leaders in our time, and at any level. This applies to both current and former. Staying calm as much as four years in the post of Chairman of the Russian Government Mikhail Kasyanov, also known as Misha two percent, with the coming to power of Putin, overnight turned into opposition. And now he with pathos and glitter in the eyes tells how was the struggle between the eternal, one, and, I want that. But it forgets to say that as a result of his efforts, including the victory was won by a Liberal, linkbacks,,.
Well then, he at least managed the Government. Now compiled a list of bad journalists, bought a ticket and ... Yes, you read that right, went to America with the list. Why bother?! Elementary!!! Ask the Americans to impose on these honest and independent representatives of one of the most ancient trade sanctions. No, I'm not against democracy in the yard, is right! But not solid. It is as if the plant manager will seek out cigarette butts thrown by careless workers. ...
You can join me on social networks